Every four years, CNES brings together its scientific advising committees (and I have never been invited 🙁 )  for its scientific prospective seminar. This seminar is where the scientific priorities for CNES's next space missions are defined. A few months before, a call for ideas for new missions is issued, and it was the opportunity to submit the idea of a mission called SENTINEL-HR (following Gérard Dedieu who had already proposed it two years ago).
The land advisory comittee recommended to study the Sentinel-HR in a phase zero, and we hope to start soon mission studies.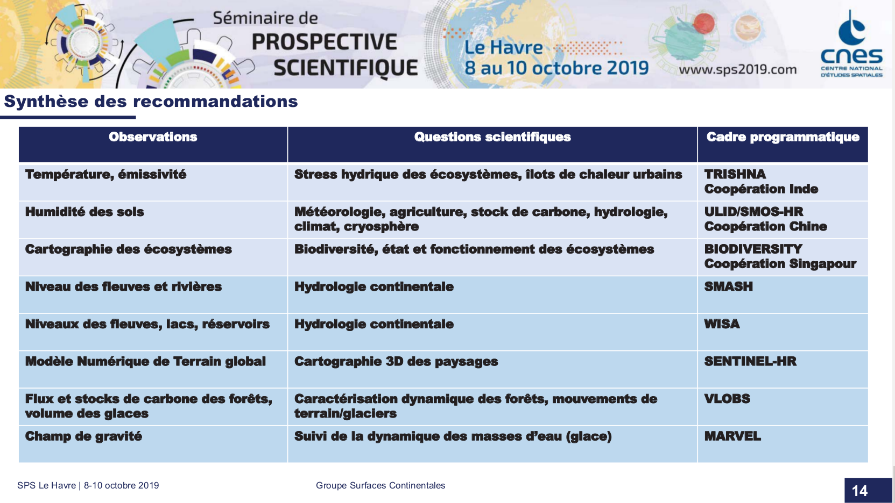 Copernicus study of user needs
In addition, as part of our studies for the preparation of the new generation of Sentinels, we were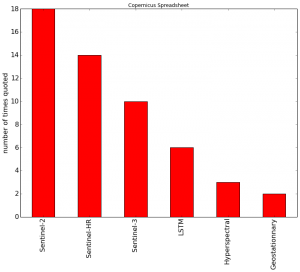 able to analyze the results of the major survey conducted by the Copernicus program with hundreds of users. We found that the demand for a mission such as Sentinel-HR appears frequently among users working for continental applications, as shown in the figure on the right.
Sentinel-HR mission
The Sentinel-HR mission should make it possible to observe all the lands at a metric resolution once a season. Taking into account the clouds, it would require a systematic revisit frequency of 20 to 30 days. As the mission name suggests, access to data would be free and open. The minimum configuration would have four bands (blue, green, red, near-infra-red), with optional bands in the short wave infra-red and the possibility of making stereoscopic observations.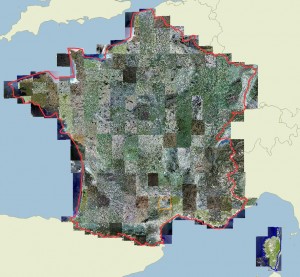 As I already presented numerous times and for many years,  the benefit of Sentinel-2 data, compared to the SPOT missions of the past, is the ability to make frequent and systematic acquisitions, coupled with the free and open availability of data. This clearly explains the success of the SENTINEL-2 mission, which brought the number of users each year from a few thousands for SPOT to tens of thousands for SENTINEL-2.
Feasibility
Even if the feasibility studies did not start yet, the minimal mission really looks within reach: for instance, the SPOT6/7 satellites, launched in 2013, are able to acquire 2m resolution images for a field of view of 60 km.  SPOT1 had been designed to acquire all lands in 26 days, at Nadir, with a 120 km field of view (two fields of view of 60km). In 26 days, a satellite in SPOT's orbit makes 369 revolutions, which gives a total field of view of 369*120=44280 km,  10% more than the length of equator. . Two satellites with a 60 km field of view would do the same.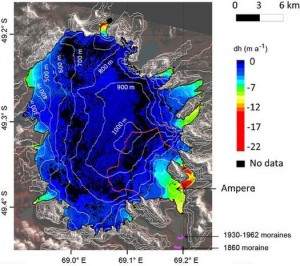 Of course, there are probably other smart solutions which will need to be studied, either with more satellites, or with a larger field of view. The most complicated point for Sentinel-HR would probably be data throughput. Currently, SPOT6/7 only acquire a few minutes of orbital shooting, whereas it would take up to 20 minutes for Sentinel-2. Setting up a stereoscopic shot with an angle difference of about 10 degrees would not be easy either, but our instrument designers will probably have good ideas.
Applications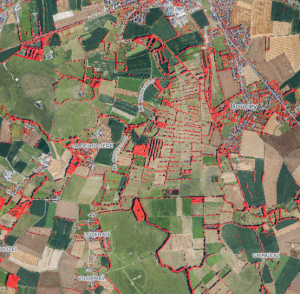 As for Sentinel-2, the applications would be very diverse.
Here are a few of them :
monitoring of artificialization and urban density, water masses, glaciers, morphology of rivers, forests, management of natural parks.
support for agricultural declarations or their control

Monitoring of coastline and sandbanks at the Arcachon basin exit, by bathymetric inversion of SPOT5 images (Dulac, 2013 (4) Thanks to a  special concentartion of SPOT5 image acquisitions on that zone (thanks to Kalideos project), it was possible to get an accurate evaluation of the movement amplitude in meters over two years. With the Sentinel-HR mission, it would be possible to generalize these studies on all the world's coasts.

monitoring of the tree elements (green frames, hedges …) of the landscape
contribution of texture in the identification of land cover has been demonstrated
providing texture information to estimate biophysical parameters of forests such as biomass, age, or height
coastline and shallow bathymetry
for post-disaster damage assessments, this mission would provide assurance of having a high-resolution, recent reference image
If you are interested by the Sentinel-HR mission, please feel free to tell us, by commenting this post. We are interested in your reasons, and we will need application examples to promote this idea. And maybe, if you do it well, i'll get invited to CNES's prospective seminar ;). Of course it will be a long time until we get such a mission,  probably too expensive for CNES alone. But submitting this proposal will maybe allow to start studying it and make the idea progress.
Co-proposers
The proposal was submitted with several co-proposers :
Gérard Dedieu (CESBIO/CNES)
Anne Puissant (LIVE/CNRS)
Pierre Morel (TETIS/IRSTEA)
Etienne Berthier (LEGOS/CNRS)
Image references
[1] Geosud: <a href= »http://ids.equipex-geosud.fr/ »>http://ids.equipex-geosud.fr/</a>[2] <a href= »https://www.nature.com/articles/srep32396″>Favier, Vincent, D. Verfaillie, E. Berthier, M. Menegoz, V. Jomelli, J. E. Kay, L. Ducret et al. « Atmospheric drying as the main driver of dramatic glacier wastage in the southern Indian Ocean. » <em>Scientific reports</em> 6 (2016): 32396.</a>[Extraction of hedgerows by Kermap company: <a href= »http://www.kermap.com/bocage/ »>http://www.kermap.com/bocage/</a>[4] <a href= »http://www.gis-cooc.org/images/stories/coocimage/presentations/Atelier_2013/gis_cooc_atelier%202013_bertrand_lubac.pdf »>coastline monitoring </a>