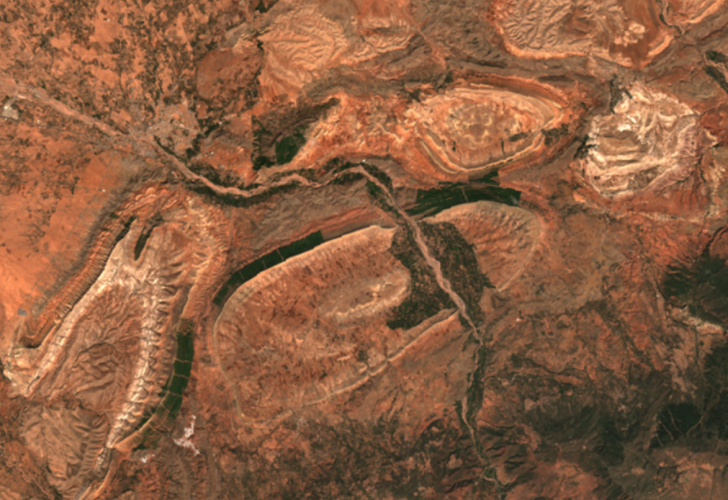 Since October 2019, the Theia land data center started producing monthly cloud free and almost seamless syntheses, using Sentinel-2 data acquired on the Maghreb coastal regions, from Agadir to Djerba, passing through Rabah, Alger and Tunis. These syntheses, also called Level3A products, will be delivered every month, thans to the WASP processor, which was integrated within the %MUSCATE production center at CNES. The products can be freely downloaded from Theia distribution website, using requests such as this one :
https://theia.cnes.fr/atdistrib/rocket/#/search?page=1&collection=SENTINEL2&processingLevel=LEVEL3A
To download the data, you just need to register to Theia website. Then you can either use the website interface, or a download tool. As for the Sentinel2 L1C and L2A products, the syntheses are cut into tiles of 110×110 km2 and are provided with a 10m resolution for bands B2,B3,B4,B8, and 20m for the other bands. The syntheses use all the cloud free data acquired by Sentinel-2 over a period of 46 days, centred on the day 15th of each month. In the eventually of a constant cloud cover during all the Sentinel-2 overpasses in the 46 days duration, a mask is provided to show where clouds or shadows are remaining. This mask is however more useful in North of France than in Maghreb.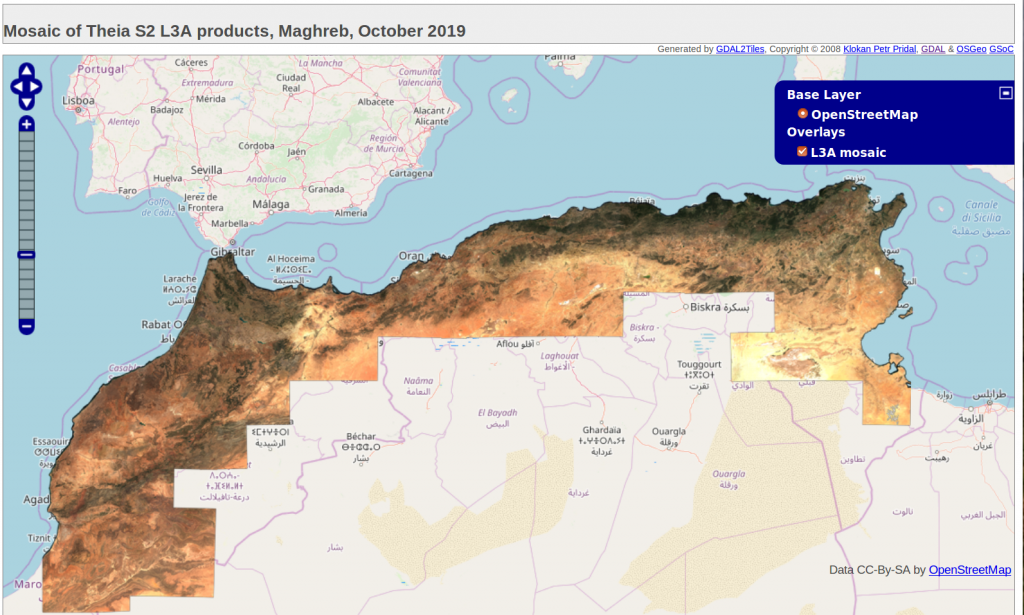 Click on the image above to view the mosaic of Theia L3A products over Maghreb for October 2019. Given the large size of the region, we produced the mosaic at a resolution of 40m, but Theia L3A products have a full resolution of 10m.
Flight over Maghreb to join the sites monitored by CESBIO (with its Moroccan and Tunisian partners), the Haouz plain in Morocco, and the Merguelil catchment in Tunisia.
To have a detailed description of the methods behind WASP, please read the link provided below. In a few words, WASP (Weighted average Synthesis Processor) computes a weighted average of Sentinel-2 cloud free reflectances gathered over a duration of 46 days, centred on the 15 th day of each month. This processing relies on the quality of atmospheric correction and above all cloud detection obtained from MAJA L2A processor.