=>

Dear readers of this blog, all my best wishes for 2014 !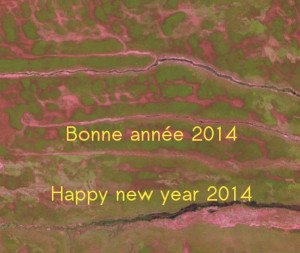 May this new year bring you nice image time series, but spare you some time to process those recorded last year (among which SPOT4 (Take5) ;)). Even if 2014 will be another year without Sentinel-2 and VENµS, let's guess that with LANDSAT-8 et SPOT4 (Take5),  the data sets produced by THEIA et maybe the new experiment SPOT5 (Take5), we won't have time to get bored.
This new year is also the first birthday of this blog, and though I only imagined to keep it during SPOT4 (Take5) experiment,  the large number of readers incite me to go on.  And a blog about time series should at least last for some time...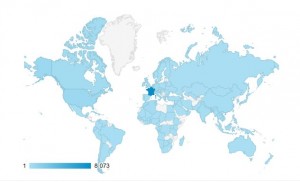 | Country | Pages | Visits |
| --- | --- | --- |
| | 19 228 | 4 272 |
| | 1 306 | 177 |
| | 1 250 | 515 |
| | 781 | 218 |
| | 698 | 290 |
| | 684 | 243 |
| | 682 | 162 |
| | 549 | 220 |
| | 493 | 277 |
| | 458 | 84 |
During its first year, this blog received 14000 visits, which is 60 visits per day of work (some of you even read it during week-ends, but I hope this blog is not the reason why you are not going for  a walk, to the movies or don't read good books !). 31000 pages were visited (with a click), but as it is a blog you may read several posts with only one click. 60% of the visits come from France and 40% from abroad, and the blog received at least a visitor from nearly every country.Apart from the main pages, the most successful posts are :