CNES just gave a green light to go on with the studies to repeat the Take5 experiment with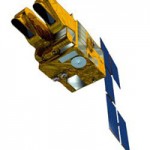 SPOT5. These studies will determine the exact cost of the experiment and see if it fits with what could be available, accounting for ESA's help. If everything goes well, the experiment would start around April 2015, until the end of August 2015. It will provide the opportunity, for several sites, to anticipate the launch of Sentinel-2. I do not know yet how the sites would be chosen, but I will keep you posted.

Le CNES vient de donner son feu vert pour poursuivre les études de faisabilité d'une nouvelle expérience Take5 réalisée avec SPOT5. Ces études auront notamment pour but de déterminer le coût exact de l'expérience et de voir s'il correspond aux budgets qui peuvent être dégagés, avec l'aide de l'ESA. Si tout se passe bien, l'expérience démarrerait en Avril 2015 et durerait jusqu'à fin Août, elle permettrait donc d'anticiper le lancement de Sentinel-2 pour quelques sites. Je ne sais pas encore comment les sites seraient choisis, mais je vous tiens bien sûr au courant.