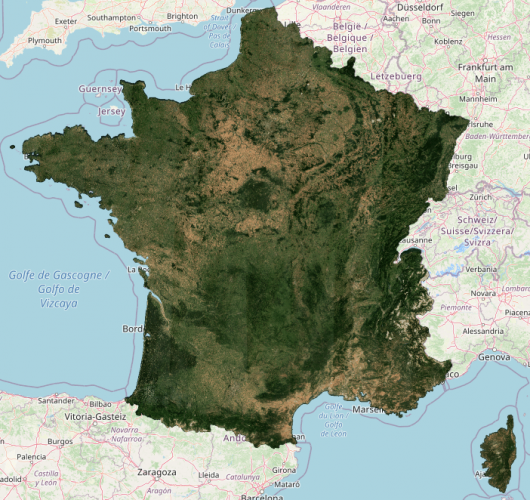 When the summers were hot and dry during the past years, our monthly cloudfree syntheses of surface reflectances from Sentinel-2 for the month of July interested the media. It will probably not be the case in 2021, as France thankfully kept its green colour in July.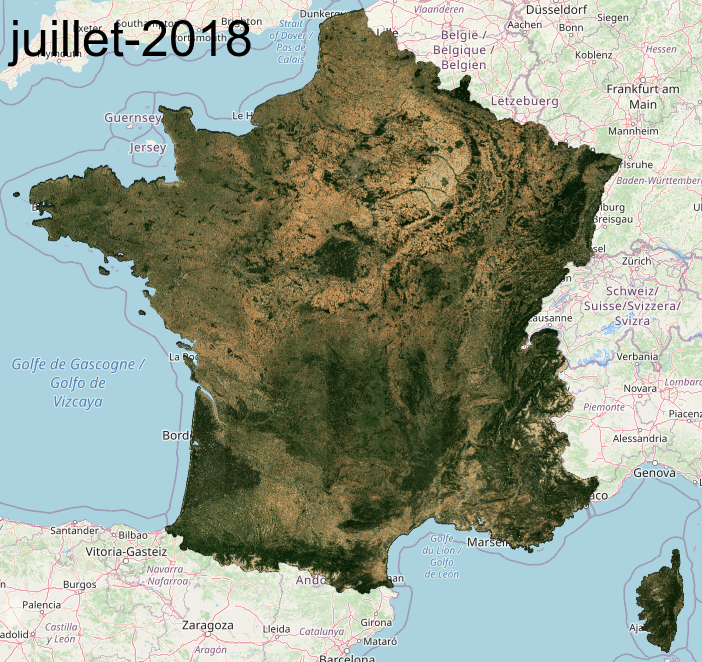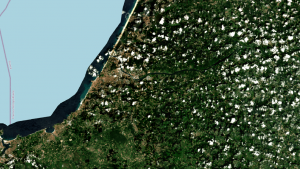 Because of the cloud cover that allowed to keep this beautiful green color, some regions could never be observed without clouds by Sentinel-2, and yet we use a period of 45 days for our syntheses. This is for example the case in the Basque Country and in the Landes, in SouthWest France, as shown in the image below. The residual clouds and their shadows are of course indicated in our products. This shows once again the importance of improving the revisit of the Sentinel-2 mission in the coming years to improve the probability of clear observations.
You can view these syntheses by yourself, and zoom in to 10m resolution, using Theia's beautiful map dissemination tool http://maps.theia-land.fr. The tool also allows you to compare two different dates, and for France, we have made available all the data produced since 2018. Data from other regions produced by Theia are also available (Europe, Maghreb, Madagascar and Sahel).
To conclude, here are a few zooms on some French regions, where differences betwen 2021 and the three previous years are particularly striking :
Zoom on the agricultural region of champagne (there is not only wine in Champagne) . In 2021, the harvests were later, and the soils more humid, which explains the brownish color.

Zoom on Haute Loire, Center East of France.I n this region with a high proportion of grasslands and forests, the droughts of 2019 and 2020 had caused the grasslands to turn yellow. The return to their beautiful green color in 2021 brought relied to the ranchers and their livestock.