(English version below)

Dans le cadre du projet Simult'eau (partenaires : Arvalis, CACG, Chambres d'Agriculture du Tarn et des Hautes-Pyrénées, financement CASDAR) nous avons testé l'apport d'une utilisation combinée des images radar et optiques pour la cartographie des surfaces irriguées (maïs et soja) dans le Sud-Ouest de la France. Les résultats publiés dans Remote Sensing (https://www.mdpi.com/2072-4292/11/2/118) ont révélé que l'utilisation d'images radar Sentinel-1 combinées aux images optiques (Landsat-8) permettait de détecter les surfaces irriguées plus précocément qu'avec les images optiques seules. En effet ces dernières sont souvent perturbées par la présence de nuages qui rendent la détection impossible à certaines périodes de l'année. Ce résultat, qui doit être confirmé par des études complémentaires (autres lieux et autres dates), est très encourageant. Il ouvre de nouvelles perspectives pour une gestion « optimisée » des ressources en eau notamment pour des organismes tels que la CACG (Compagnie d'Aménagement des Coteaux de Gascogne) ou les Organismes de Gestion Collective de l'eau (OUGC). Les cartes produites sont en libre accès sur le site Theia :
https://www.theia-land.fr/product/carte-des-cultures-irriguees-du-sud-ouest/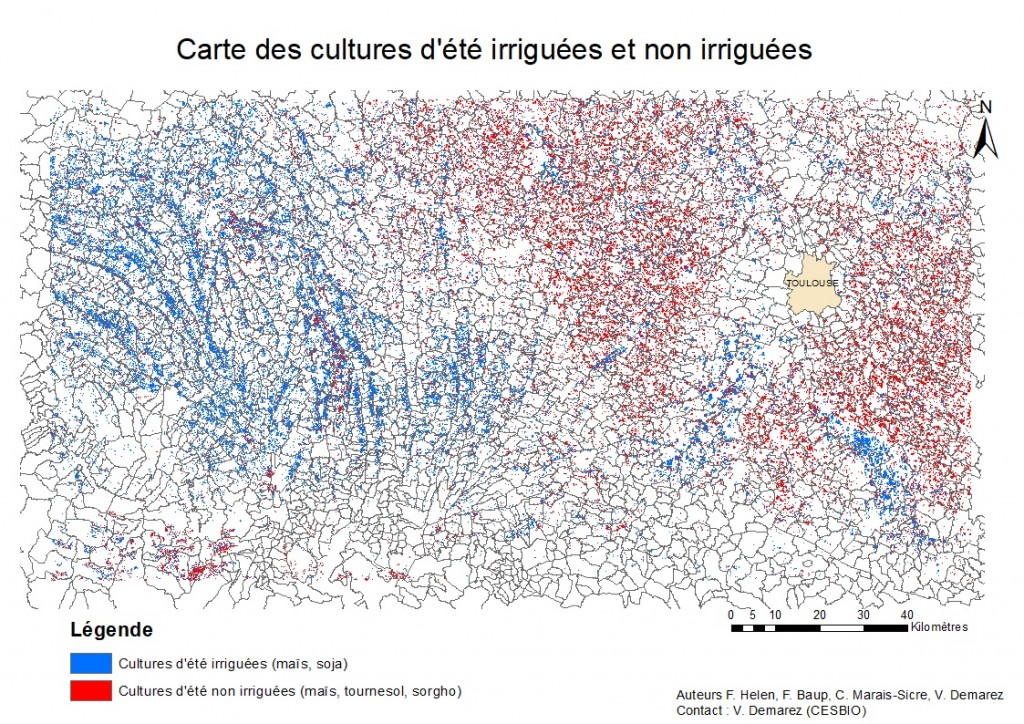 Ces recherches se poursuivent actuellement dans le cadre de la thèse de Yann Pageot financée par le CNES, l'Agence de l'Eau Adour-Garonne et la CACG.

As part of the Simult'eau project (partners: Arvalis, CACG, Tarn and Hautes-Pyrénées Chambers of Agriculture, CASDAR funding), we tested the potential of the joint use of radar and optical images for mapping irrigated areas (maize and soybean) in southwestern France. The results published in Remote Sensing (https://www.mdpi.com/2072-4292/11/2/118) revealed that the combined use of the radar and optical images improves the early classifications of the irrigated crops compared to classifications obtained using optical images only. Indeed during rainy periods, unlike radar images, the optical images are inexploitable due to cloud coverage. This result, which must be confirmed by further studies (in other places and for other dates), is very encouraging. It offers new perspectives for the water resource managers to reach a more sustainable water resources management. The maps produced are freely accessible on the Theia website: http://www.theia-land.fr/fr/ces-surfaces-irriguees.This research is currently ongoing as part of Yann Pageot's PhD funded by CNES, the Agence de l'Eau and the CACG.