May this new year bring you happiness, and not only related to image time series ! As usual, this beginning of year brings the opportunity to summarize 2017. Here is what I would record, in our field of interest :
the consecration of Copernicus program and of the Sentinel satellites. Since 2015, more than 110,000 people have registered to access the data ! In my opinion, this success is due to the combination of several factors: the data are free and easy to access, the observations are repetitive, regular and frequent worldwide, and the data are of high quality. Congratulations to ESA and the EU, not to mention the contribution of CNES for the quality of Sentinel-2 images and the calibration of Sentinel-3.
the launch of the VENμS satellite, August 2nd, finally, with a delay of 8 years ! The difficulties encountered with satellite attitude data are now resolved, and systematic acquisitions are starting within a few days. The distribution of products will start in spring.
the successful launch of the Sentinel-2B satellite in March, then the start of data delivery in July, followed by the start of systematic observations, every 10 days, for all continents since October with S2B. S2a is still only observing one orbit out of two outside Europe and Africa..

La Sierra Nevada nevada en el dia de Navidad 2017. Snowy sierra Nevada for Christmas 2017, available in https://theia.cnes.fr. Snow appears in blue, clouds in white, and non-snow in grey.

MUSCATE, on behalf of Theia started the distribution of Sentinel-2A Level 2A data. Despite the numerous difficulties of a complex production system, the distribution performances are improving, and new advanced products will slowly appear. The distribution of snow cover products has already started.

the multiplication of European platforms supposed to compete with those of GAFA to facilitate access to data. In Europe, disorder reigns, with initiatives that are abounding but visibly uncoordinated: we have the choice between the ESA TEP platforms (6 different platforms!), the Copernicus RUS, soon the 5 DIAS ( 5 different ones doing the same thing), the Collaborative  Ground Segments at the national level (like PEPS in France). We can only get lost, and our users do not know where to get their data. Will one of these solutions get competitive against those of the GAFA ?

Animation of MAJA v1.0 and SEN2COR v2.4.0 cloud masks for a cloud free scene in the Middle East, . Cloud contours are outlined in green, shadows contours in yellow. Click on image to enlarge.

ESA's choice to produce Level 2A products worldwide, with Sen2cor software. This choice was made on the basis of a biased study conducted by ESA (see the conclusion slides). Sen2cor's products, however, have a much lower quality than MAJA's, both in terms of cloud detection and atmospheric correction, especially in arid terrain. But ESA's production will constitute a large data volume, that the DIAS will be required to redistribute. Will the DIAS be willing to make our MAJA L2A also available (doubling the data volume once again ?) Do not hesitate to ask them !

the 106 000 pages read on this blog in a year !
So, what's up for 2018 ?
For Sentinel-2, two and a half years after launch, we should hopefully see the start of data registration with ground control points, to get the required 0.3 pixels registration performance (against 1.2 pixels currently for data acquired on the same orbit track, and even worse from different tracks). The current performance results in an effective resolution of the time series reduced to 30m, as for Landsat. It is not be enough to put this in production, it is also necessary to reprocess the two first years. I hear that the data from the first two years will not be reprocessed, I hope this is just an unfounded rumour. In case, do not hesitate to express your needs to Copernicus and ESA.
A reliable MUSCATE production center at last (the issues do not come form MAJA),
Theia's L2A data availability at least on one of the Dias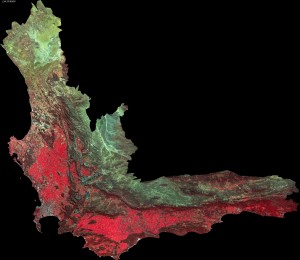 The start of production of Level 3 monthly syntheses of surface reflectance with the weighted average method developed within CESBIO..
Theia taking charge of land cover maps production over France (so that CESBIO can concentrate on research and improvements...)
Venµs products delivery
Well, as usual, I grumble, but the progress made in Europe in 2017 is impressive, and the data we were dreaming of 10 years ago are now available. 2018 should be a good vintage !