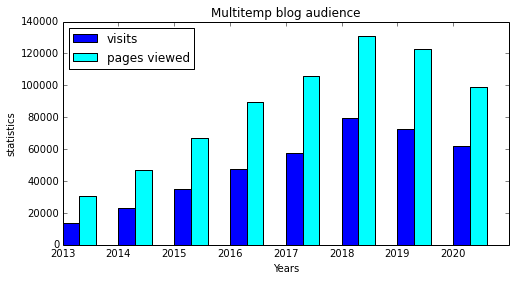 2020 has been a very difficult year for everyone (but it's over 🙂 ), and the multitemp blog did not make an exception. Our audience has decreased by 13 to 20% depending on the statistics, compared to 2019, which already did not break records.
It would be easy to blame the Covid, and I guess a large part of the time we spent this year scrolling on the internet or social networks was devoted to checking the last news and stats of the virus. But I guess a good part of the the explanation lies in the fact that we wrote much less posts this year : 132 against 188 in 2019.  The burden of the covid is once again an explanation, but also the the fact that some of us took new functions, started writing a dissertation (l'habiliitation à diriger des recherches) or simply lacked inspiration. Even if we have welcome new authors with great posts, Julien Michel, Philippe Gamet, Amandine Rolland, Sylvain Mangiarotti, Jerôme Colin, Marie Ballère and Stephane Mermoz, they are sill a bit shy and only produced a few posts.
This blog is open to all CESBIO personnel, but also to our close collaborators in different labs and industries, or to the users of our products, to provide feedback. Feel free to suggest articles, it does not take long, and there is no reviewer 2.
Maybe are there other reasons, and we would be happy to receive feedback. After 8 years of blogging, are we starting to repeat ourselves  ?  You all know now that Sentinel-2 is a great satellite, and that MAJA is better than Sen2cor ;).

So here is the list of the most read pages this year, after having removed the lists of articles, like of course the home page, the Sentinel-2 or Landsat pages, the author names (this year, Simon's name was more clicked than mine, on the blog I created,, should I fire him ? ).
2020 top posts
So what may we conclude ?
the 3 top posts are the same as last year
only 4 posts from 2020 made it to the top 15
the distribution of small free software is at the top of the list (and we get several questions a week…)
Simon's geophysics articles (with the associated add on social networks) attract crowds
the description of the MAJA software is a success, but half of my articles point to this page
the example on how to use Google Earth Online attracts much more than the articles that denounce its dangers (it's sad)
the « How It Works » series continues to be a success
Level 3A products were very popular
the posts on Theia's product formats are useful
two articles on Sentinel-1 ranked in the top 15 (and a third on deforestation ranked in the top 30)
our tries with remote sensing economy are successful
Sentinel-HR mission articles are regularly read, although not yet in the top 15