L'Antarctique sort à peine de sa torpeur hivernale que déjà deux évènements majeurs viennent de se produire sous l'œil de Sentinel-1.  Le 12 juillet dernier, une crevasse géante à fendu la barrière de glace Larsen C [1], mais il a fallu attendre que la banquise desserre son étau en septembre pour que l'iceberg A68 commence à dériver. Ce glaçon couvre une superficie de 5800 km² (les deux tiers de la Corse).
#LarsenC : The Movie ?
Made with 1 year of extra-wide swath single HH Sentinel-1 data available @sentinel_hub @ESA_EO @CopernicusEU pic.twitter.com/z2e71AeYEC

— Simon Gascoin (@sgascoin) September 25, 2017
Le 23 septembre, c'est le glacier de l'Île du Pin qui a perdu un morceau de 267 km² (la moitié de la superficie du lac Léman) à l'extrémité de sa langue de glace flottante. Nous avions déjà montré sur ce blog la propagation de la fissure qui est probablement à l'origine de cet évènement. Un iceberg deux fois plus vaste s'était déjà décroché du même glacier en 2015. Dans les deux cas la crevasse à l'origine du vêlage s'est ouverte en partant du centre de la langue, ce qui est inhabituel car les fractures apparaissent généralement en bordure du glacier où le cisaillement est le plus fort [2]. Pour expliquer ce comportement, Jeong et al. [3] suggèrent que la fracture de 2015 est liée au réchauffement de l'océan qui aurait accéléré la fonte par dessous la langue de glace flottante.
Breaking news from Pine Island Glacier, which lost 267km2 of icebergs today, after the internal crack resulted in a large calving event 1/n pic.twitter.com/sLwGTyNTfC

— Stef Lhermitte (@StefLhermitte) September 23, 2017
Il est temps que la luminosité revienne en Antarctique pour que les acquisitions Sentinel-2 redémarrent !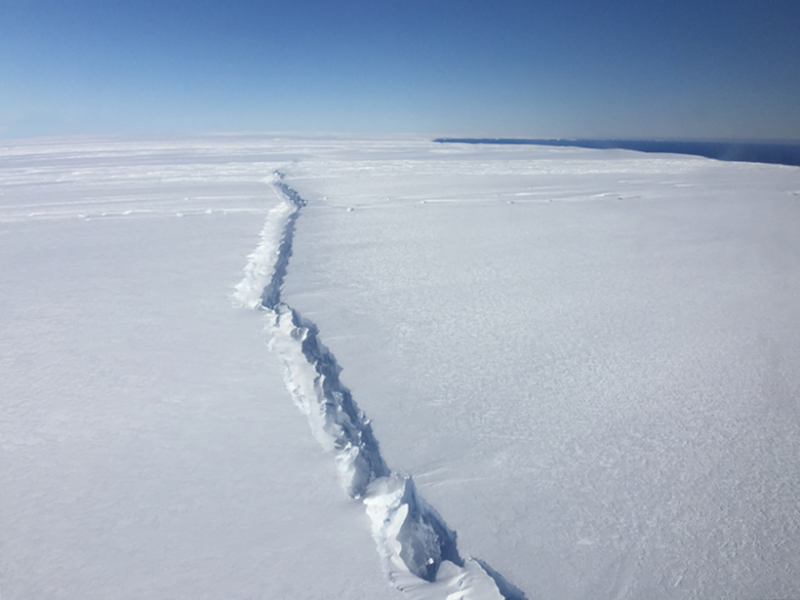 Notes
[1] « Larsen C calves trillion ton iceberg », Project Midas blog, http://www.projectmidas.org/blog/calving/.
[2] « West Antarctic Ice Shelf Breaking Up from the Inside Out »; EOS, https://eos.org/research-spotlights/west-antarctic-ice-shelf-breaking-up-from-the-inside-out
[3] « Accelerated ice shelf rifting and retreat at Pine Island Glacier, West Antarctica », Geophysical Research Letters, http://onlinelibrary.wiley.com/doi/10.1002/2016GL071360/