=> 


The Sen2Agri System, funded by ESA, is now on its pre-operational phase. It has just completed its first mass production and in this context, we just obtained our first Level 3A syntheses obtained with Sentinel-2A. Level 3A products are monthly syntheses of non cloudy pixels.
Syntheses
The monthly syntheses are produced by the Sen2Agri system. They use as input 2A level products processed by the MACCS processor, which provides surface reflectance along with cloud masks and shadow masks and snow and water masks. As their name suggests, the syntheses are produced once a month, but can be based on a bit longer time periods to increase chances to get cloud free observations.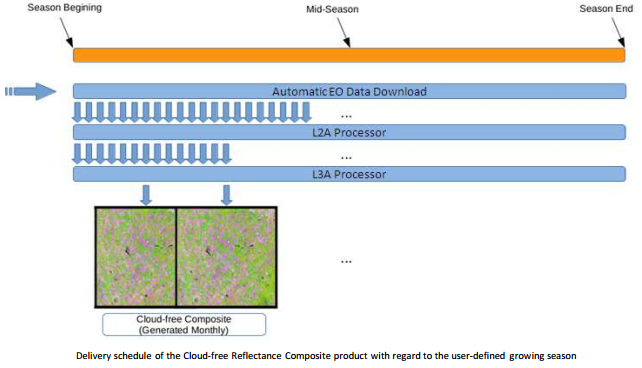 The syntheses are produced using a weighted average method to which we added a directional correction method. Until now, we had only applied it to SPOT (Take5) data using CESBIO's prototype. But to process the huge Sentinel-2 data volumes, we had to re-code the processor to obtain a more efficient and operational software. This task was done by CS-Romania for the Sen2Agri consortium par CS-Roumanie (and namely by Cosmin Udroiu), from the method defined by CESBIO for THEIA. The new synthesis processor is based on the efficient Orfeo Toolbox library and applications, as most of Sen2Agri processors. The aim of synthesis products is to allow simple visualization and processing of cloud free images. A lot of information is lost in the syntheses compared to the level 2A products, but thanks to the quasi absence of clouds, these products are far easier to use. We believe that the experienced users will rely on level 2A products, but that the syntheses will be useful for users willing to make easy and fast processing or simply to have a clear view of their site before going on the field . And finally, let's recall that the Sentinel-2 system is waiting for its second satellite, which will improve drastically the repetitivity and therefore the synthesis quality. Here are our first results obtained over two zones in South Africa:
a 4 tiles (210*210 km2) zone around Pretoria. Tiles 35JNM, 35JNN, 35JPM, 35JPN, observed from orbits 35 and 135.

a 12 tiles zone, (410*310 km2) South of Pretoria, with tiles 35JMJ, 35JMK, 35JML, 35JNJ, 35JNK, 35JNL, 35JPJ, 35JPK, 35JPL, 35JQJ, 35JQK, 35JQL, observed from orbits 35, 135 and 92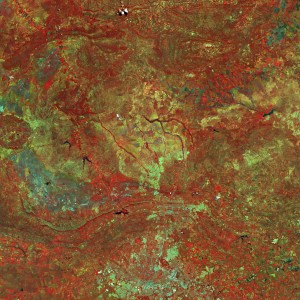 50 days synthesis centered on March 31st, on Pretoria in South Africa. The intersection from orbits 35 and 135 crosses the middle of the image, but cannot be seen (which is a good sign of quality). As the tiles are processed independently from Level 1C to level 3A, they could induce artefacts, but it is not the case on this image.
50 days composite centered on May 1st, 2016, south of the above image. The zone is covered by 3 Sentinel-2 obits. Two intersection zones are included in the zone but the angle variations are well compensated by the processor. Still, good observers will note that some tile edges are visible. We found the cause of this issue in our weighting system, which can be better tuned.
You may click on the images to look at them with a better resolution (sorry, it is impossible to provide full resolution, the image weights 13 GB). The artefacts, which are usually a plague for composite and synthesis products are very rare on these products. However, a few pixels were never observed cloud free, and a few clouds and shadows subsisted in the composite, but they are flagged in the quality masks.
Demonstration phase
When validation is completed, the system performances will be demonstrated during an experiment which consists in processing 3 national sites (+/- 500.000 km²), and 5 local sites (310*310 km²). The data processing should start in a few weeks.
National sites : The system will be tested over the whole Ukraine and the main agricultural regions of Mali and South Africa. It will be of course operated by the consortium, but also by the site partners.
Local sites :

The Shandong region in China, if the aerosols let us see the surface

The Occitanie region, in France

Madagascar central part

Tadla  and Tensift regions in Morocco

The white Nile region in Soudan

Voluntary sites :

the system will also be tested by users on 3 voluntary sites, Belgium, Czech republic and Bangladesh
Of course, the flagship product of Sen2Agri system is not the synthesis, but the crop masks, crop type maps and biophysical variables. Their results will be shown in subsequent posts. And a few months from now, you will be able to download the system (open source) and install it on your computer (but not on your laptop, you will need a powerful computer).