As almost everywhere, 2020 has been a gloomy year at CESBIO ! Even if CESBIO has been relatively spared by the disease, with a low number of mild cases so far, a few of our colleagues lost relatives and we send them our warmest thoughts ! The situation is probably the same for the blog's audience, and we sincerely hope our readers coped with this bad year as well as possible.
But 2020 is over now and it's a pleasure to wish you a very happy 2021. Let's wish that we will soon be able to meet in a room and not in a zoom !
At CESBIO, we have a terrible backlog of events to celebrate, and if the COVID lets us do it, we will probably spend the end of the year partying !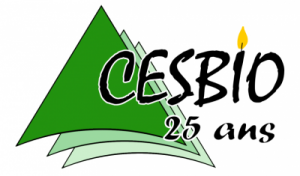 CESBIO turned 25 this year, but we had to cancel the party which was scheduled in May. We hope to be able to celebrate in 2021 the first birthday of CESBIO 25th anniversary.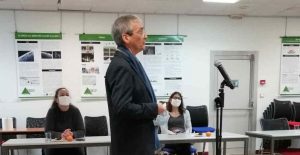 The 5 year mandate of CESBIO's director, Laurent Polidori, ended on the December 31st, and even if we did celebrate it, with 10 people in the room, and the rest of the lab in the zoom, we will still need to really celebrate his leaving next time he returns from Brazil, where he'll soon be a professor of remote sensing. This blog is a good testimony of how the laboratory progressed during his calm, attentive and enlightened direction.
A new team, with Mehrez Zribi as director, will lead the CESBIO for the 5 next years. Valérie Demarez and Lionel Jarlan will be deputy directors, and Gilles Boulet and Olivier Hagolle (yes, me 🙁 ) will lead the two teams of CESBIO (Modelling and Observation resp.).
CESBIO's new direction team
| | | | | |
| --- | --- | --- | --- | --- |
| | | | | |
| Mehrez Zribi - Director | Valérie Démarez - Deputy Director | Lionel Jarlan - Deputy Director | Gilles Boulet - Modelling team leader | Olivier Hagolle - Observation team leader |
We will have also to celebrate the retirement of two pillars of the CESBIO lab, Yann Kerr and Gérard Dedieu, who set the bases of the laboratory, defined successful satellite missions, produced a large corpus of literature and trained a lot of us. Although they will still work benevolently with us for a few years (as an emerit researcher and SMOS PI for Yann and VENµS PI for Gérard), 2021 marks the beginning of a big change for the laboratory. We will still need their long term vision and  deep knowledge of the land remote sensing world.
Happy retirees
We have also welcome several new researchers, promoted new doctors, started a new space mission, Trishna,  and seen the departure of key personnel, such as Bernard Marciel who took care of our building and logistics team during several years, and sometimes managed to get us air conditioning before winter (which is not easy at the University Paul Sabatier). So if ever you see drunk researchers from CESBIO in Toulouse at the end of 2021, it will be a good sign we have beaten the virus and started to celebrate all the parties we have been accumulating.
Looking for a photograph for Gérard, I found out that Gérard is well prepared for the retirement, so let's not worry for him.