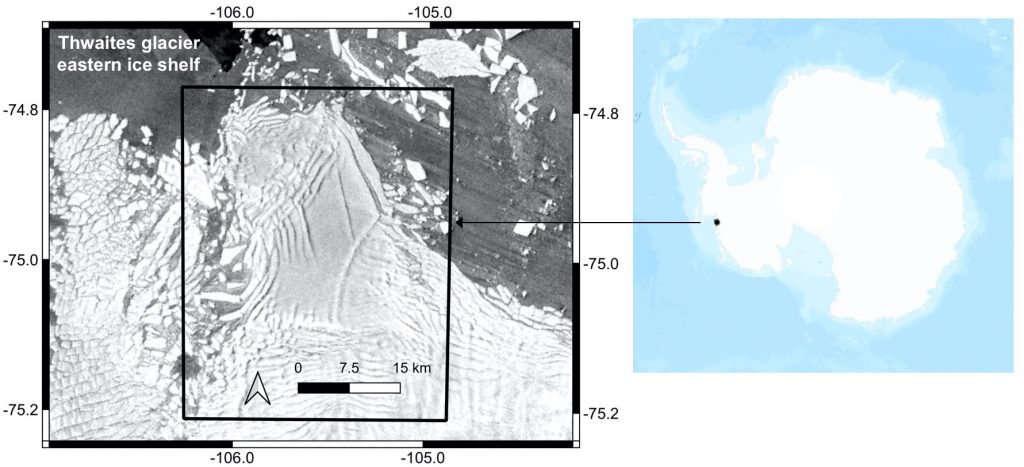 Thwaites est un immense glacier en Antarctique qui contribue déjà à 4% de la hausse du niveau des océans à lui tout seul. La barrière de glace flottante devant le front oriental du glacier agit comme un barrage qui ralentit le flux de glace du continent vers l'océan. Si cette plateforme de glace se brise, le glacier Thwaites s'accélérera et sa contribution à la hausse du niveau de la mer pourrait atteindre 25%. A partir d'images Sentinel-1, Pettit et al. 2021 ont remarqué que cette plateforme est en train de se fracturer. On peut voir les crevasses apparaître sur cette animation :
Doomsday approaching!
Breakup of the @ThwaitesGlacier eastern ice shelf.
Time lapse of 221 #Sentinel1 radar images @CopernicusEU pic.twitter.com/HkWEBucj18

— Simon Gascoin (@sgascoin) December 29, 2021
Pour en savoir plus :
https://www.washingtonpost.com/climate-environment/2021/12/13/thwaites-glacier-melt-antarctica/
https://www.science.org/content/article/ice-shelf-holding-back-keystone-antarctic-glacier-within-years-failure
Source
Pettit, Erin C., Christian Wild, Karen Alley, Atsuhiro Muto, Martin Truffer, Suzanne Louise Bevan, Jeremy N. Bassis, Anna Crawford, Ted A. Scambos, et Doug Benn. 2021. « Collapse of Thwaites Eastern Ice Shelf by intersecting fractures. » In . AGU.
https://agu.confex.com/agu/fm21/meetingapp.cgi/Paper/978762
.