=>

It is our great pleasure to announce that the LANDSAT 8 level 2A data produced by THEIA are available at the following address.
The available data are all the data acquired by LANDSAT over France, for which a sufficient number of cloud free pixels were available. They were processed to Level 2A : they are expressed as surface reflectance after atmospheric correction, and are provided with a cloud mask. The way we produced them is explained here for LANDSAT 8 and here for LANDSAT 5 and 7.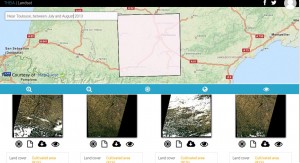 The distribution server was developed by my CNES colleague Jérôme Gaspéri, helped by Rémi Mourembles from CAP Gemini ; it has a very simple but very modern interface, with only one simple field to formulate requests, which may be provided as sentences in day to day language. The tool indeed makes a semantic analysis of your requests. And it is meant to work as well on your computer, tablet or phone (but you should think before downloading a whole LANDSAT product on a smartphone). Example of requests :
1) Date and location

LANDSAT7 images on Biarritz between january and june 2009

LANDSAT8 images on Toulouse acquired in may 2013

2) Research on land cover characteristics :

Herbaceous area on Jersey in 2013

Images with forest in October 2013

Images without forest in October 2013

3) Or any combination :

Images with cultivated area and forest on Paris between March and August 2010

Cultivated area on Bordeaux in August 2013

4) Telegraphic style

LANDSAT8 July 2013

Arcachon LANDSAT5
To select the geographic extent, you could also zoom on the map to define the region of interest fom the corners of the displayed region. Finally, to download the product, you need first to create an account, by clicking on the orange icon, and then you need to identify yourself. Every image can be downloaded by clicking on the download button or directly using its URL defined from the product name. I have to write an automatic download script, but you may already use the very convenient DownThemAll Firefox plugin. To use it, you will have first to login, then to ask Downthemall to download all the URLs thant end with « $download ». (HowTo provided here) The publication of these data is the result of years of work, at CESBIO and CNES, although their production takes less than 2 weeks. It is also the first cersion of this processing. Positive comments are welcome, as well as negative, they will be useful to enhance the service, before we start processing Sentinel-2, which should be launched next year. Finally, we would like to thank our NASA and USGS colleagues who distribute the input data with no restriction, which allows THEIA to deliver fully open data. Please do not forget to tell us about what you did with the data, it is very important to elp us justify our funding requests.