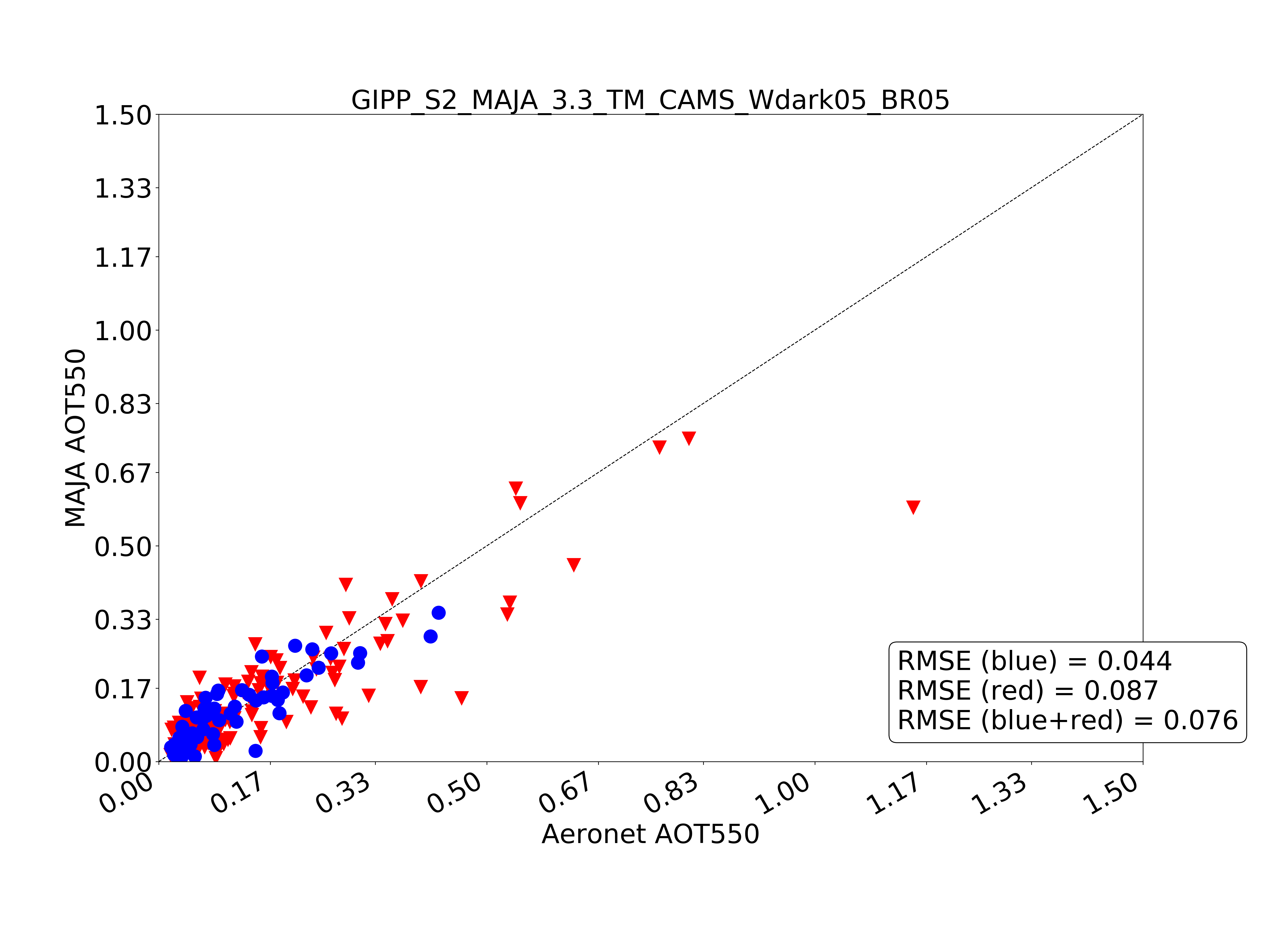 What's new ?
Pfew ! It has been quite long, but MAJA 3.3 is available, and it improves a LOT of things !
Some bugs have been fixed, like the one which caused detection of cloud or cloud shadows on the edges of the images
It seems we have finally solved the bugs that plagued the CAMS option since we released MAJA V3.0. Since V3.0, this option uses the Copernicus Atmosphere aerosol forecasts to set the aerosol type before retrieving the aerosol optical thickness (AOT) from Sentinel-2 data
We now also use CAMS AOT as a default value, when it is not possible to estimate AOT using the images, for instance above a snow covered landscape or for small gaps in a large cloud cover. Before that, we used 0.1 everywhere as a default value. The default value is used in the cost function with a very low weight, it has no impact when conditions for AOT estimates are good, but a large impact in bad conditions.
The cirrus correction module was over correcting the impact of thick cirrus clouds, providing images with dark clouds. We have limited the correction in order to get more realistic values
We have improved the cloud detection, with a better compromise between false positives and false negatives. We also handle better the variation against altitude of the cirrus cloud detection with band 10 (1.38 µm). MAJA 3.3 is the version with which we obtained the results of our recently published article. This paper shows that MAJA has slightly better performances than FMask 4.0, and much better performances than Sen2Cor.
Moreover, when we validated the results, we figured out that one of the parameters in our settings had a wrong value (10 instead of 1). It is easy to make such errors, because there are about 150 parameters in MAJA, and it's easy to make an error. We have set up a version management of MAJA settings since 2017, but the erroneous value was already there before that. And this value has a big impact ! The standard deviation of errors in AOT estimates is reduced by 30 to 40% !! The W_dark parameter controls the weight of the dark pixel method in the AOT estimation. This method is just supposed to be used as a safeguard in case the multi-temporal or multi-spectral methods provide wrong results. It should therefore have a low weight, but with a weight of 10, it was in fact the method which had the highest weight in our estimates. As this method provides a maximum value of the AOT, it tended to reduce the provide too low AOTs. This improvement is therefore a great piece of news, but it comes with some shame not to have found this error before.
| | |
| --- | --- |
| | |
| AOT validation against AERONET for 10 sites with the wrong W_dark value | AOT validation against AERONET for 10 sites with the correct W_dark value |
The blue dots correspond to validation obtained in good conditions, while red dots correspond to less reliable validation points.These are the results of comparison of version 3.3 with CAMS activated, changing only the W_dark parameter, but if we compare with the results of version 3.1, the improvement is even more impressive :
| | |
| --- | --- |
| | |
| AOT validation against AERONET for 10 sites, version 3.1/td> | AOT validation against AERONET for 10 sites version 3.3, with the correct W_dark value |
How to access MAJA ?
Here is how to access MAJA 3.3 :
MAJA 3.3 is distributed as a free software for non commercial purposes from CNES free software site (select the 3.3 TM version in the download tab). If you need it for commercial purposes, you just have to ask me for a different licence, but it still will be free of charge.
The best way to use MAJA is to run it with Start_MAJA, which is a simple python code that runs MAJA for a whole time series for a given Sentinel-2 tile. The Strart MAJA readme also explains how to get the good settings, with the good W_dark value, how to prepare the DEM or how to get CAMS data.
PEPS on-demand processing facility will be updated soon, but it is still working with MAJA 3.2 so far
THEIA is also running MAJA 3.2. We will update first the wdark parameter, and then MAJA 3.3 and then start production with CAMS, hopefully before summer. If everything goes well, we will then start a reprocessing of all our data set. So, stay tuned on this information channel.