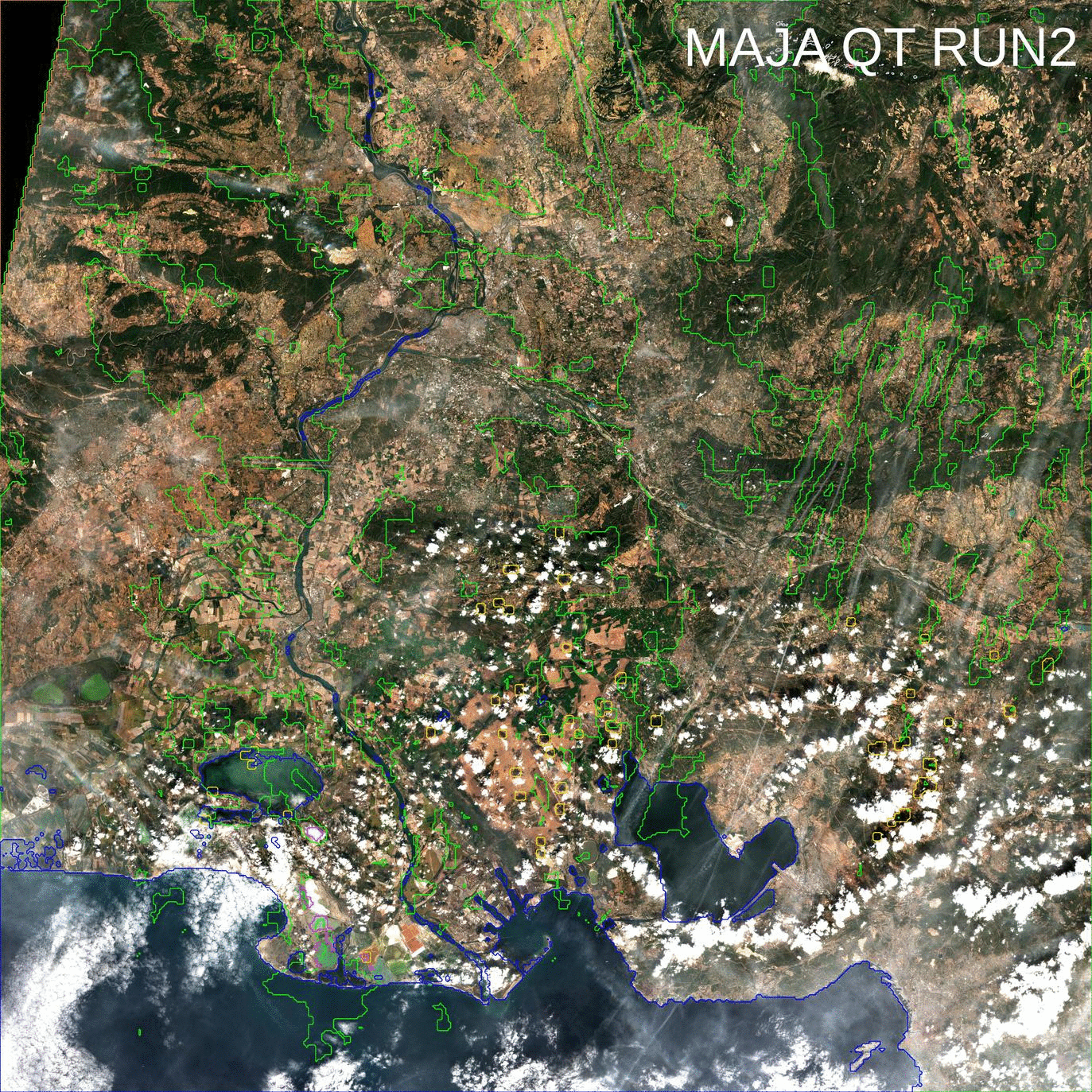 We will start distributing MAJA V3.1 this May to replace MAJA V1 on CNES free software platform. It is also in the pipeline of enhancements of Theia processing platform (MUSCATE), but this pipeline is quite full, so we will need to be patient (which requires a big effort for me, patience not being my best quality…) MAJA V3 comes with a lot of enhancements compared to V1 :
MAJA V2: The multi-temporal methods included in MAJA were assuming that all successive observations in a time series are made with the same viewing angles. This assumption is wrong when we are using the overlap region between different satellite tracks. MAJA now takes this into account and normalizes the reflectance before computing the AOT. The surface reflectances provided to the user are still not normalized, given that the normalization factor is not perfectly accurate (in should depend on the pixel content, while we use a constant correction).
MAJA V2: We have introduced a thin cirrus cloud correction (method from DLR). The corrected cirrus clouds are still flagged as cloudy, as this correction is not always perfect, and often shows the cirrus cloud shadow beneath.
MAJA V3: MAJA assumed that aerosols were of « continental type », small rural aerosol with low absorption. This assumption is usually valid for Europe, with exceptions, but is wrong in many arid or polluted places. MAJA V3.1 introduces a new interface with Copernicus Atmosphere Monitoring Service real time products. The AOT from CAMS is generally less accurate than that estimated by MAJA from Sentinel-2 images, so we did not use it directly, but the use of the aerosol type from CAMS enhances the results, especially when the aerosol model is very different from the continental model. The use of CAMS is an option, it is not mandatory.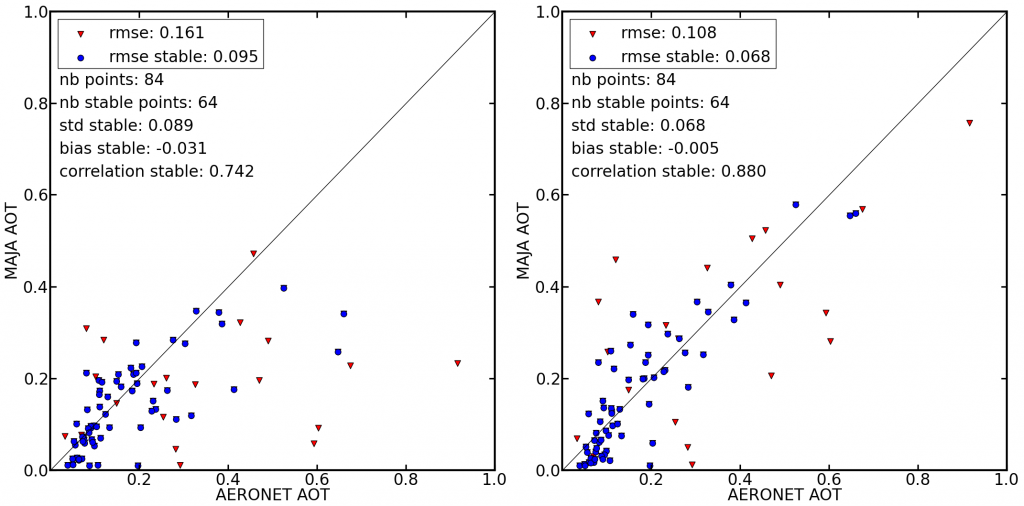 MAJA 3.1: for historical, yet unfortunate reasons, MAJA used to have two different formats, one when used within THEIA, using as input Theia's L1C internal format, and MAJA « native » format, when processing directly products from ESA. From V3.1, MAJA will use only Theia's format. However differences are moderate, the main one is the fact that all the spectral bands are split in different Geotiff files. MAJA 3.1 will not recognise the L2A native format, so it will be necessary to start again an initialisation procedure (with backward mode) before processing time series in nominal mode.
MAJA 3.1 will be provided for both RedHat/CentOS/Fedora and Ubuntu platforms.
We will provide a new version of the start_maja.py utility, which allows to run MAJA V3.1. The coming days will be used to check and prepare the parameters to use MAJA with or without cirrus correction and with/without CAMS. This new version of MAJA is the result of the work of quite a lot of people :
Bastien Rouquié and myself at CESBIO
Camilles Desjardins and Pierre Lassalle at CNES
Elsa Bourgeois, Guillaume Rochais (until last year), Bruno Angéniol and Elise Durand from CAP GEMINI to assist us in the validation of CESBIO's work, and of the new operational versions from CS-SI
Aurélien Bricier and Thomas Feuvrier (until last year) for the development of MAJA within CS-SI.
Many thanks to all, and to our funding agencies, CNES and ESA.