To compute a cloud free synthesis of surface reflectances every month, a good repetitivity of observations is necessary. The weighted average method we developed at CESBIO, and which will be part of ESA's sen2agri system was coded by Cosmin Udroiu at CS Romania. It was meant to work with both Sentinel-2 sensors and an observation every fifth day. As we are still waiting for the launch of Sentinel-2B, the monthly syntheses obtained with Sentinel-2A alone really lack cloud free data.
On the left, the Sentinel-2A monthly synthesis, above Odessa (Ukraine) in May, and on the right its flag, with, in black, the areas flagged as cloud or cloud shadow. When a pixel is flagged as cloud or cloud shadow, the monthly synthesis provides the minimum blue reflectance, which tends to avoid clouds (if possible), but often selects cloud shadows.
Fortunately, the Sen2agri L3A processor is designed to work with LANDSAT 8 too, as both satellites have similar spectral bands, and as the MACCS atmospheric correction used to produce the L2A input products works for both sensors. Of course LANDSAT 8 geometric resolution is not that of Sentinel-2, so to avoid degrading Sentinel-2 imagery when LANDSAT8 data are available, we give Landsat 8 a very low weight in the weighted average. As a result, Landsat is really taken into account only when no cloud free Sentinel-2 was available during the synthesis period.
Same result as above, but including LANDSAT 8 data. A cloud free date at least is now found for every pixel. The water mask obtained from Level 2A product is a little wrong on the Landsat 8 image due to the presence of turbid waters and thin clouds. A solution for this problem will be implemented in next MACCS L2A version. Note that the monthly synthesis of both Sentinel-2 and LANDSAT-8 leaves nearly no visible artifacts on the lands.
For a better comparison of both versions, here is a little animation of composites with and without Landsat 8.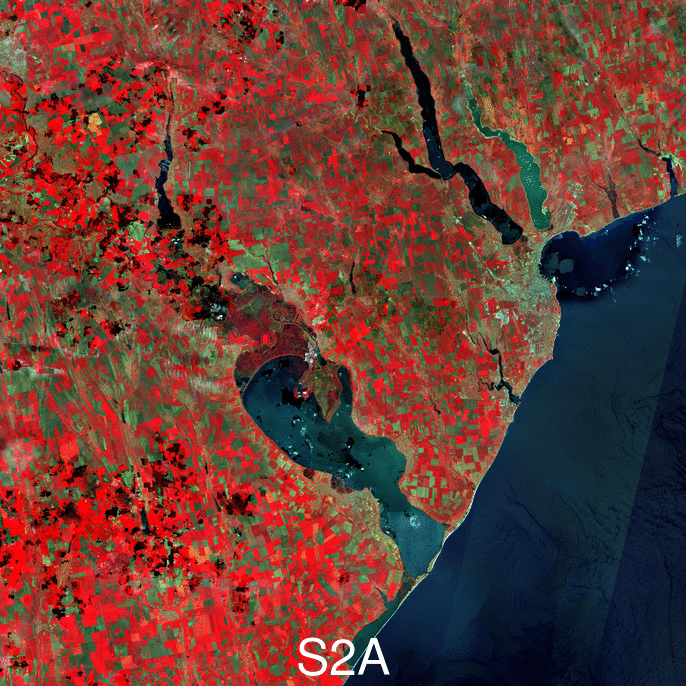 The Sen2Agri system is still in validation phase and should be released as open source next May, 6 months from now. The L3A synthesis processor will be also implemented within Theia and monthly L3A products will be distributed by Theia as it is already the case for L2A products.