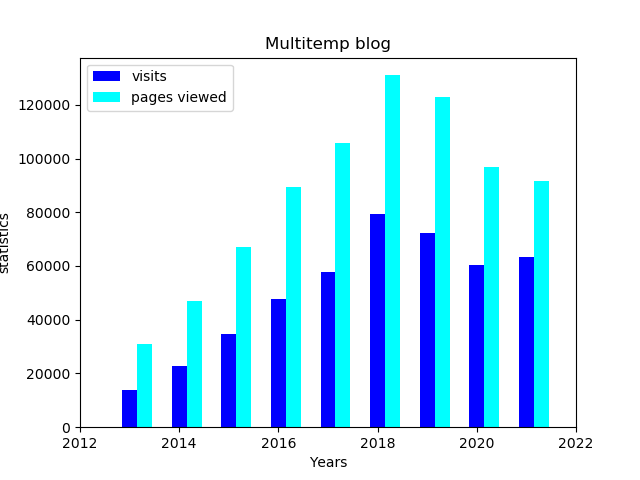 As every year, I have gathered the statistics of the multitemp blog in 2021. It seems that we have more or less stopped the decrease of its audience, with a higher number of visits than last year, even if the number of pages viewed is still decreasing a bit. The two main authors of the blog have been quite busy this year :
Simon Gascoin successfully defended his « Habilitation à Diriger des Recherches », the diploma you need to be allowed to supervise PhD in France. Instead of preparing superb images for the blog, he made a magnificent dissertation on how remote sensing can be useful to monitor Snow Water Equivalent.
I have become the big boss of CESBIO's observation systems team and I have the honor of spending all my time in meetings with other big bosses, while the researchers at CESBIO are doing real work.
Let me recall that the columns of this blog are open, and that all CESBIO members are welcome to submit short articles, and we even accept articles from outside CESBIO, as long as they concern time series of remote sensing images.
I have another meeting and I lack time to detail which were the successful pages this year. Apart of the didactic pages in the « how it works » menu, three five pages had a large success, with more than 500 views :
Despite its technical content, the multitemp blog, relayed by social media, is becoming a great tool in the politics of remote sensing !