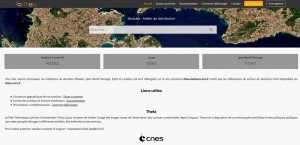 Our MUSCATE ground segment just passed a new milestone, with 40 000 L2A products processed with MAJA ! Last week was a bit difficult, with a new repetition of the Friday Night Bug (on Saturday morning this time), followed by a « NFS » issue on CNES computing center that blocked production during two days. We are sorry for those of you waiting for the data in near real time. The production has resumed last Friday. These days, our production includes the near real time production and the processing of data acquired in 2016 over Spain, Italy, Switzerland and Netherlands. Some parts are already available, Burgos in Spain for instance, the others should come soon. The version 2.4 of MUSCATE is nearly ready, but a final bug, noticed during the qualification tests remains to be corrected. As soon as it is installed and checked, this version will bring several improvements :
the correction of  the Friday night bug, which will allow an increased production rate every day, and avoid to stop production on week-ends.
a new version of MAJA, V1.0, with an enhanced mono-temporal cloud mask that comes from DLR, which brings some enhancements for time series over very cloudy sites.
the integration of Sentinel-2B production
the integration of the « Let-It-Snow processor » that will allow us to produce in real time
the possibility to process Landsat 8 products resampled over Sentinel-2 grid. We will then resume production of Landsat 8 L2A products over France that was stopped 6 months ago, when the computers it was running on were replaced by CNES new cluster.