=>

ESA declared Sentinel-2B operational at the beginning of October, although preliminary data were already available. Since this morning, MUSCATE is producing and distributing Sentinel-2B Level 2A products using the MAJA processor (the L2A products are expressed in surface reflectance after atmospheric correction and are provided with a good quality cloud mask). The current production starts from the first of October 2017 and will go on in real time, and we will progressively add the Sentinel-2B products acquired since July 2017.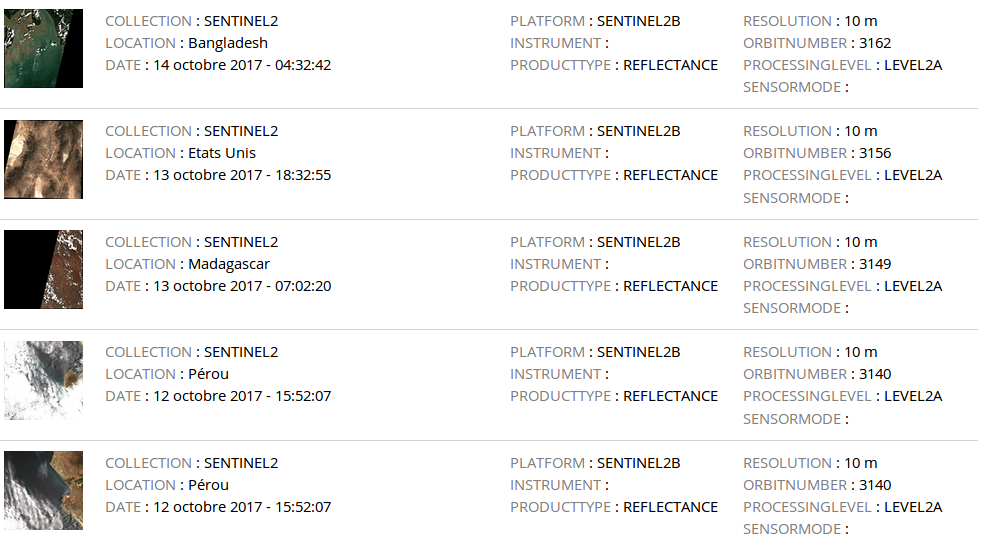 As always, the data can be freely downloaded from https://theia.cnes.fr Here is a little example of time series of iimages acquired over Baotou, China, alternatively by Sentinel-2A and Sentinel-2B, here again, the images look the same, except where something has clearly changed on the ground, in the east-west irrigarted valley in the image center.
| | | |
| --- | --- | --- |
| Sentinel-2A | Sentinel-2B | Sentinel-2A |
As MAJA processing is multi-temporal, its accuracy will benefit from the doubled repetitivity of acquisition, which should have an effect on our validation results. Using the production we did to check our  parameters, we have already checked that the reflectances provided by both sensors are quite close, and agree well with in situ measurements obtained with CNES surface reflectance measuring station in La Crau. The results are provided below.The figure below shows a comparison of the aerosol optical thicknesses derived over la Crau, with S2A in red and S2B in blue. The results seem consistent.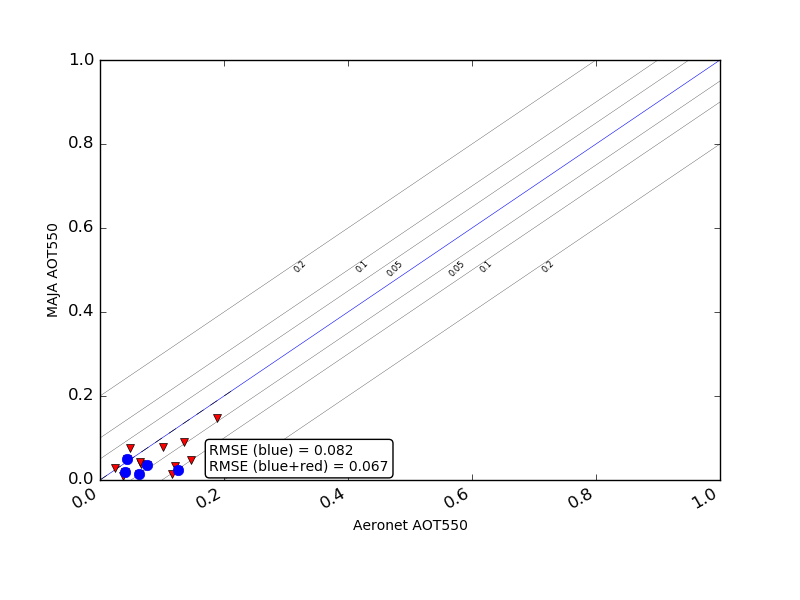 The four following plots show the validation results of surface reflectances after atmospheric correction for 4 of Sentinel-2 A & B spectral bands. Here again, results of S2A in red, and S2B in blue are fully consistent. As already observed, we have a small bias in some spectral bands with regard to the reference data, but the bias is the same for both satellites. We do not know yet if it comes from our Level-2 processing, or from Sentinel-2 calibration, or from the in-situ measurements (accurate in-situ measurements of surface reflectances are really difficult). Probably from a mixture of all. But believe me an agreement to 0.01 – 0.02 in reflectance is already an achievement.
The SWIR validation results look a bit more noisy that the other bands, but I do not think it is noise. This increased scatter is always related to the sensitivity of the surface reflectance to wetness in the SWIR. It takes a whole sunny day to accumulate measurements on the ground, while Sentinel-2 measure is instantaneous, at 10h30 in the morning. The ground often dries out during a sunny day and the reflectance increases. Many thanks to Guillaume Rochais (Cap Gemini) and Camille Desjardins (CNES), who produce these validation results, and to Aurélie Courtois (Thales-IS), who develops and maintains the validation tools. About Muscate 2.4 :This production is being done thanks to a major  upgrade with the long awaited version 2.4 of MUSCATE (we replaced the 2.3.xx version by version 2.4.16), which includes MAJA V1.0 instead of MAJA V0. The next little upgrade, 2.4.17 will allow us to deliver snow in real time, and the following one, 2.4.19 will allow the production of Landsat 8 L2A products, resampled on Sentinel-2 tiles. These two evolutions should be installed shortly.Muscate 2.4 should also correct for the Friday Night bug, which (often, not always) used to stop production as soon as we left office for week-end. Let's keep fingers crossed, we know new versions can come with new bugs, although this one was checked, verified, validated, assessed and qualified.Just to give you an idea of the effort we spend on this work, thanks to CNES funding, here is an incomplete list of people who contributed to this new version (not everyone is here full time, but many are !):
the MUSCATE development teams at CNES (Joelle Donadieu) and Cap Gemini (Dominique Clesse and a team of developers which I did not meet yet), who strive a lot to get this system running on CNES powerful but complex HPC center, while intergrating new  processors or new version of older processors
the MAJA development team, at CNES (Pierre Lassalle, Camille Desjardins), CESBIO (Bastien Rouquié and myself), CS-SI (Thomas Feuvrier, Aurelien Bricier, Benjamin Esquis), CAP Gemini (Guillaume Rochais, Elise Durand, Christopher Jan). MAJA V1_0 includes a mono-temporal cloud detection method which is used when the repetitivity of cloud free observations is too low for the multi-temporal one (coming from DLR's ATCOR processor, thanks to Rudolf Richter and Aliaksei Makarau). MAJA development received funding from ESA along with the usual funding from CNES.
the exploitation team, with Joel Blazy, from CNES, Karl Rodriguez (Steria) and Patrick Di Giovanni, and Olivier (CAP Gemini), who helped test and validate MAJA in operational conditions and are now running it, optimizing its production capacity.
the support from CNES HPC center (I know Robert Ngo and Sophie Pelou, but plenty of others are implied
Many thanks to everyone, including those I forgot !-