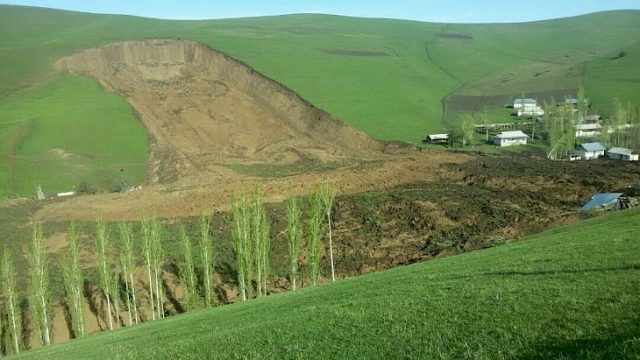 I started to look at landslides in satellite images when I saw this tweet by @RemotePixel:
July 11th 2016 Sentinel-2 Image over Glacier Bay, AK massive landslide! pic.twitter.com/pTnHQ7el8G

— Remote Pixel (@RemotePixel) July 14, 2016
Like floods, landslides can be quickly identified using a before/after image comparison. In the case of the Glacier Bay landslide I used this method with Sentinel-1 and Sentinel-2 to compute the area of the debris tongue (about 20 km², 10 km long).
Mapping the Glacier Bay landslide using Sentinels https://t.co/cD0V4ZGkX3 @davepetley @RemotePixel @theAGU pic.twitter.com/2bpVa0cYZr

— Simon Gascoin (@sgascoin) July 19, 2016
But Sentinel-1 was not particularly useful since the Glacier Bay landslide was a dark slide on a snow covered glacier, so it was easy to map it using natural color Sentinel-2 images. These kind of landslides are called « supraglacial landslides » and can be found in Landsat or Planet images too. Hashtag #lessbears 😀
I think I spotted a similar supraglacial landslide in Baffin Island#armchairfieldwork https://t.co/cNhPI1cmuB pic.twitter.com/eLr81Lc6xw

— Simon Gascoin (@sgascoin) December 3, 2017
Although the Glacier Bay landslide was one of the most impressive landslide of the decade, it did not cause any damage. The most devastating landslides in the recent years occurred in Palu, Indonesia after an earthquake.
Two articles show that rice irrigation caused the Palu landslide in Sep 2018 https://t.co/vPizerqHWy
We showed images of the fault line and landslides here https://t.co/NWs8JtWs4S pic.twitter.com/WujBIL4OiG

— Simon Gascoin (@sgascoin) October 11, 2019
Palu's shallow earthquake left a scar in the city which was visible from space
The fault line running through #Palu captured by #Sentinel2 @ESA_EO @CopernicusEU pic.twitter.com/PPYDbbJRZU

— Simon Gascoin (@sgascoin) October 2, 2018
This animation astonished me but other grumpy sharped-eye scientists noticed the poor muti-temporal registration of the images..
I saw a better example from planet images. That's sad #Sentinel2 does not do as well. I hope accurate registration comes soon @CopernicusEU

— Olivier Hagolle (@OHagolle) October 2, 2018
… and even fixed it!
A @CopernicusEU #Sentinel2 satellite view of #Palu before and after the #earthquake.

Because geolocation inaccuracy makes it difficult to compare the two raw images, this animation stabilises the west side of the image to highlight the 5m+ relative shift along the fault: pic.twitter.com/Sa3aDKJNv4

— Dr Robbi Bishop-Taylor ?️?? (@SatelliteSci) October 2, 2018
Only a couple of days after the disaster, a surface displacement map made from Planet images was tweeted by @SotisValkan:
This is the most sharp and linear earthquake surface displacement I've seen since 20130Balochistan eq! More than 20km of major strike-slip displacement for Palu fault segment, Sep 28 M7.5 #earthquake. Optical correlation w/MicMac & @planetlabs imagery pic.twitter.com/23ItZnQUNQ

— Sotiris Valkaniotis (@SotisValkan) October 1, 2018
After the Kaikoura earthquake in New Zealand, it was also possible to see both the ground displacement and the landslides caused by the earthquake in the same Sentinel-2 image:
@davepetley Some landslides are also visible https://t.co/hlxDpJdK0P

— Simon Gascoin (@sgascoin) November 16, 2016
Earthquakes often trigger landslides. The 2018 Sep 15 earthquake in Hokkaido, Japan literally triggered hundreds of landslides (see also this animation made by @zzsylvester with Planet images) !
On 18 Sep #Sentinel2 captured the many #landslides in Hokkaido, Japan
Before/after image comparison here https://t.co/12bFcBvrqw pic.twitter.com/WVaXsucH1K

— Simon Gascoin (@sgascoin) September 17, 2018
In the images above I used a false color band combination with the near-infrared band of Sentinel-2 to highlight the contrast between the detachment zone and the vegetation. Otherwise landslides in temperate regions can be difficult to see in natural colors:
Willow creek landslide by Sentinel-2. Imagery suggests that it occurred between May 11 and 31 @davepetley see here https://t.co/FdrYx1kTMP pic.twitter.com/Hyt3SUEhsi

— Simon Gascoin (@sgascoin) July 15, 2017
Whereas, with the near infrared band even small landslides can be identified:
#Landslide #Deslizamiento Kantutani near La Paz Bolivia captured by #Sentinel2 @CopernicusEU https://t.co/t3487VhQxa pic.twitter.com/LfqPRSJpXX

— Simon Gascoin (@sgascoin) May 15, 2019
Most of my landslides tweets were inspired by the landslide blog, where the author Dave Petley often comments Planet images. However, Sentinel-2 is also very useful to make quick landslide analyses because of these characteristics:
10 m spatial resolution enable to detect most landslides
near-infrared band enable to distinguish bare earth and mud from vegetation
systematic acquisitions with a

short revisit time enable to create before/after image comparison even in cloudy regions
Planet provide images with similar characteristics and even a better spatial resolution (albeit with a lower image quality). But a very important aspect of the Sentinel-2 mission is the open data policy of the Copernicus program and the availability of efficient tools like the EO-Browser to explore the data with an Internet Browser.
Next part will be about glacier hazards! In the meantime here are more landslides..
"The landslide crossed the river Hítará, damming the river and causing a lake to form above the debris tongue" pic.twitter.com/RMV2uub6c5

— Simon Gascoin (@sgascoin) January 30, 2020
#Sentinel2 shows the extent of the Pizzo Cengalo #landslide
check out @sentinel_hub https://t.co/T0Y7Z30OUh @davepetley pic.twitter.com/s5VV1zpwUP

— Simon Gascoin (@sgascoin) August 26, 2017
The recent 3.5 km long Kurbu-Tash landslide in Kyrgyzstan captured by Sentlnel-2 https://t.co/ZyzAk8XURr pic.twitter.com/hpAsIttpTQ

— Simon Gascoin (@sgascoin) May 18, 2017
Erratum to "Landslides in Kyrgyzstan captured by Sentinel-2" @davepetley https://t.co/nu6R1QyYDf pic.twitter.com/5TDBOxjnW5

— Simon Gascoin (@sgascoin) May 23, 2017
Landslide in Norway from two #Sentinel2 images (about 3 ha are gone into the sea) pic.twitter.com/TaUuUIQa4m

— Simon Gascoin (@sgascoin) June 6, 2020