=> 

It is a well deserved recognition for the land cover product developed at CESBIO : NASA's earth observatory blog dedicated its « image of the day » blog post for the 15th of August to this product.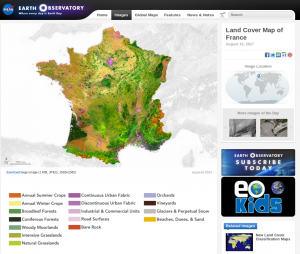 This work was done in the framework of Theia, using iota2 free software also developed at CESBIO. Thanks to the information conveyed by time series,iota2 is a fully automatic processor.Jordi Inglada's team first published in 2015 a land cover map based on LANDSAT 8 data acquired in 2014, with a 30m resolution.This production was followed, in 2017 by a new map, based on Sentinel-2 data, acquired in 2016, at 10m resolution.It seems that NASA site focused on LANDSAT 8 and did not mention Sentinel-2. But those who know Jordi will note that the « story telling » fashion finally reached him : "I can spend hours looking at the map," Inglada said. "Seeing the Earth surface with this detail is impressive and shows the beauty of our planet."When we know that only the beauty of a confusion matrix can really move him, we can measure the communication effort he did !  😉
Reference
Inglada, J. et al. (2017) Operational High Resolution Land Cover Map Production at the Country Scale Using Satellite Image Time Series. Remote Sensing, 9 (1), 95.