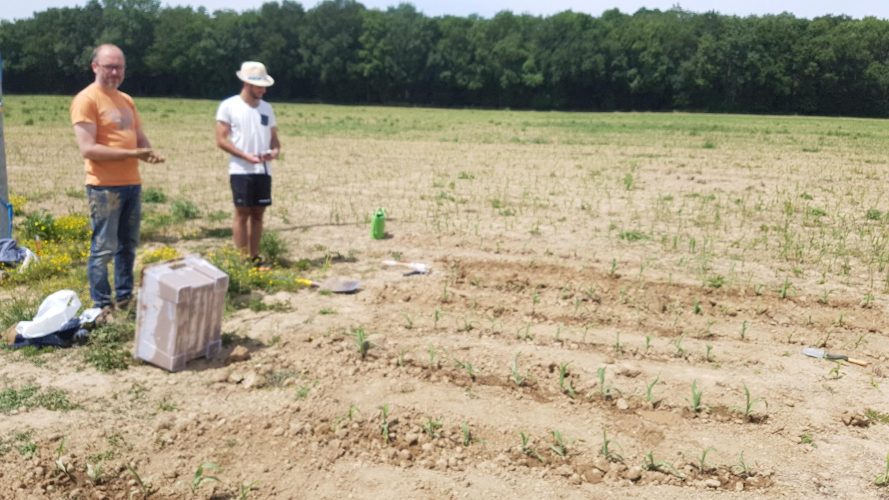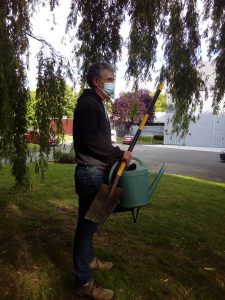 After a first tractor came too close from our ROSAS station, the next one passed by a little too far. Even if we're never satisfied, it is much better ! This tractor sowed the maize on the plot on which we have built the station.  If it is acceptable to leave a two meter circle of uncultivated ground around the mast (the foot of the mast is masked in the processing), the gap without maize plants was much too large and reached six meters.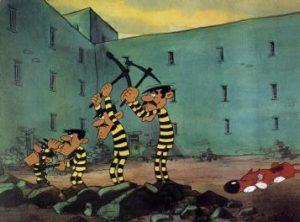 To solve that issue, on the 28th of May, our little team went gardening to transplant a few sprouts of Maize to the foot of the mast. Without a tractor, and at 500 m from the closest water source, it was quite an effort, but much more fun that spending the day in video conferences. As always, Jerome organized this perfectly, and you should see how he pampers the sprouts,  Micaël Lassalle makes an excellent water carrier,  I am the shovel expert.
Below is the result as seen from above, we hope our little plants will grow as well there than in their initial location.