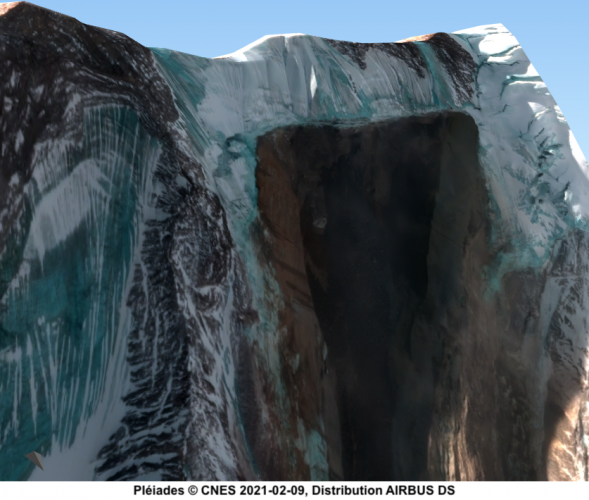 Update 17 June 2021: these images were used in a study published in Science by Shugar et al. (2021) A massive rock and ice avalanche caused the 2021 disaster at Chamoli, Indian Himalaya, doi:10.1126/science.abh4455.
The Indian Space Agency (ISRO) activated the International Charter « Space and Major Disasters » to image the area of the disater in Uttarakhand (excellent visualisation here). Thanks to CNES and Airbus DS, Pléiades images (resolution: 70 cm in panchromatic, 2.8 m in multispectral) were acquired today 09 Feb 2021, two days after the event. These images show the detachment area with a clear rupture line of 550 m on the north face of Ronti.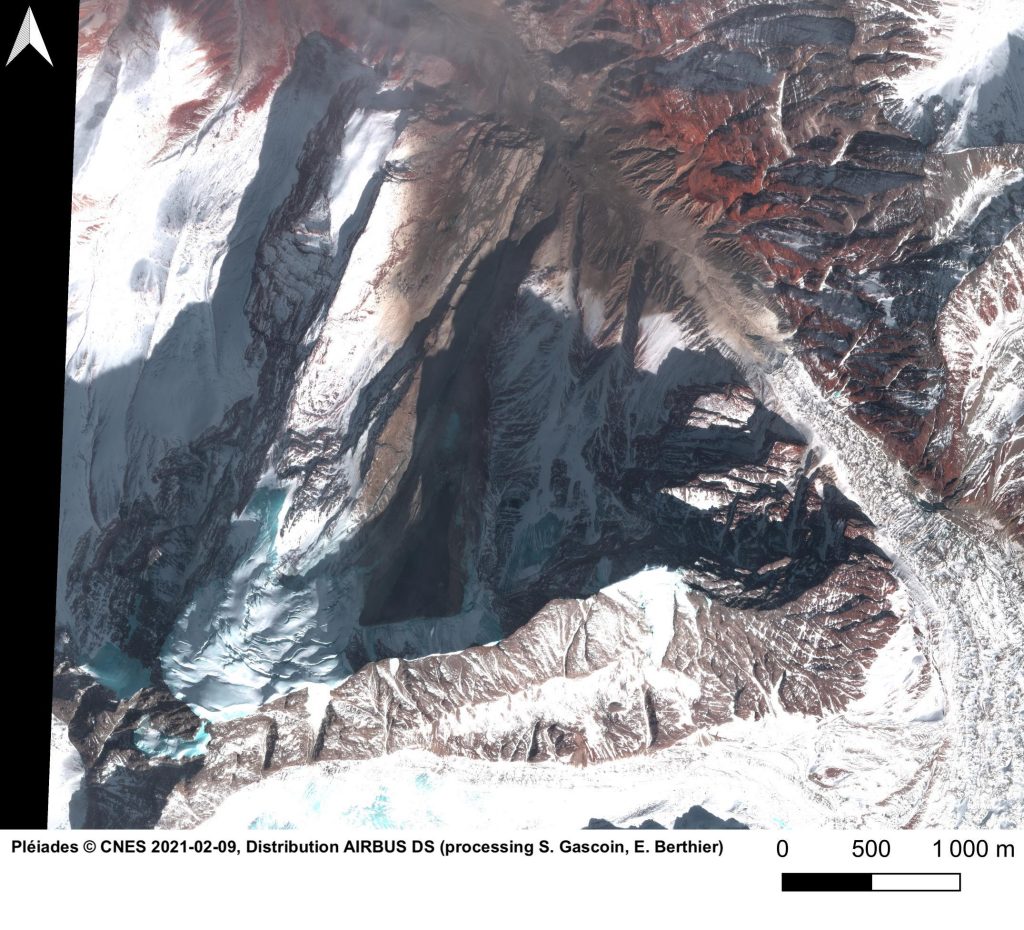 This is a comparison with the latest Sentinel-2 image, before the flood.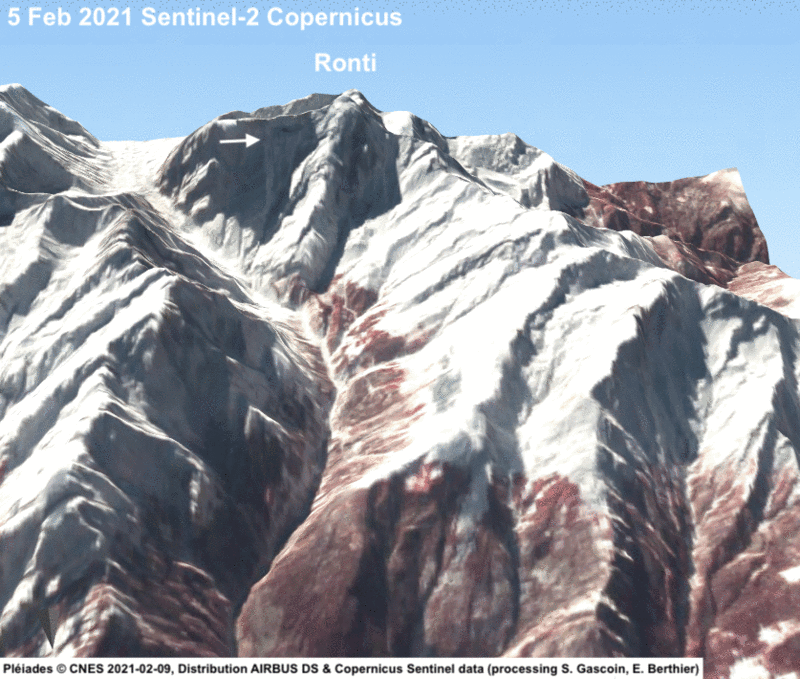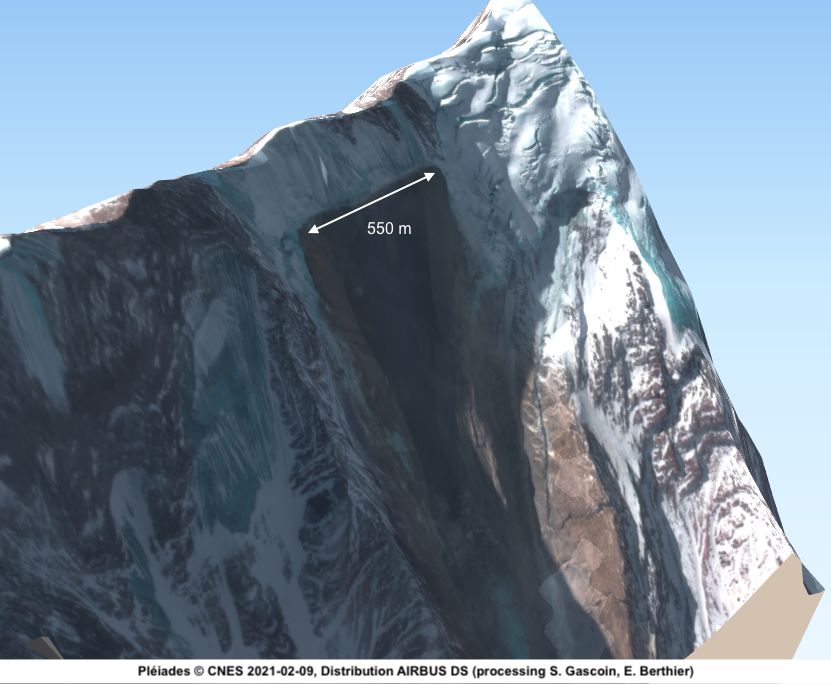 The wall.. Impressive post-event image by @cnes @AirbusSpace Pléiades #Chamoli pic.twitter.com/vch2Ox4Qae

— Simon Gascoin (@sgascoin) February 10, 2021
Preliminary work by many scientists suggests that a rockslope failure released a mixture of rock and ice which created a potent flood in the valley of the Rishiganga River.
UPDATE 10 Feb 2021. A Pléiades stereo pair has been acquired (B/H = 0.12) which allowed us to generate a high resolution 3D model of the area.
Thanks to @cnes & Pléiades images acquired this morning, we computed a high resolution DEM of the source area of the disaster. Maybe the first post-event high resolution topography. pic.twitter.com/5YmbEVzLgw

— Etienne Berthier (@EtienneBerthie2) February 10, 2021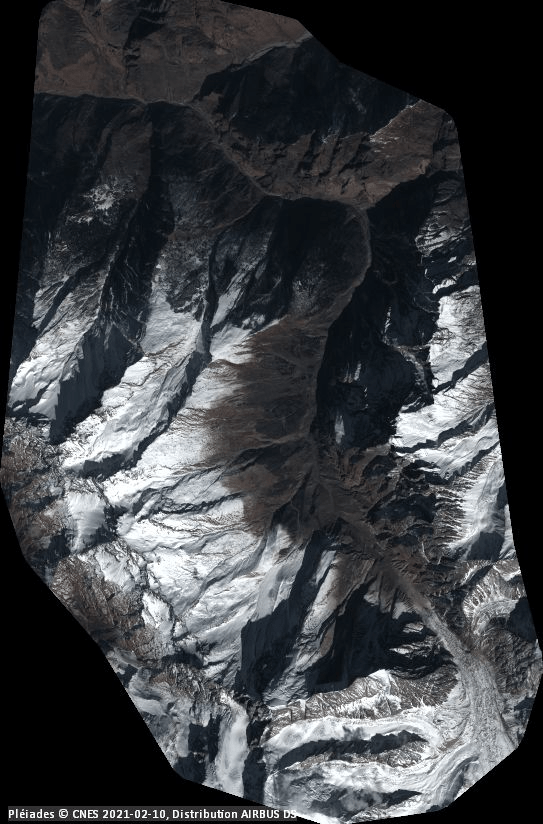 Update 11 Feb 2021
Two elevation difference maps were computed by Etienne. A first one by differencing the above Pléiades DEM with the Copernicus 30 m resolution DEM
Elevation changes in the source area of the #Chamoli landslide, #Uttarakhand. Massive 150 m loss, about 100 m on average. 10 Feb. 2021 Pléiades DEM was compared to the Copernicus 30 m DEM from ~2013. Data from @CopernicusLand @cnes @AirbusSpace. pic.twitter.com/q8xoBWoXpk

— Etienne Berthier (@EtienneBerthie2) February 11, 2021
Then, D. Shean (Univ Washington) computed a pre-event DEM from WorldView-1 images which allowed a finer analysis. The estimated detached volume is 25 millions cubic meters.
Elevation difference map & Pléiades digital surface model. Computed from #Worldview @Maxar by D. Shean @uwTACOlab and @EtienneBerthie2 #Chamoli pic.twitter.com/F9gzgYwDQa

— Simon Gascoin (@sgascoin) February 11, 2021
Authors Etienne Berthier (CNRS/LEGOS) and Simon Gascoin (CNRS/CESBIO)

Acknowledgements Work carried out with the support of CNES, the International Charter for Major Spaces and Disasters and the DINAMIS program.