Voici les présentations des Journées SPOT4 (Take5) du 18 et 19 novembre 2014.  Cette réunion a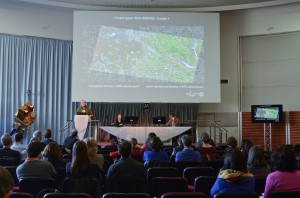 réuni une centaine de personnes au CNES pour faire un bilan des acquisitions et des produits distribués, prendre connaissance des travaux et résultats des utilisateurs et obtenir un retour d'expérience.J'en profite pour remercier chaleureusement les deux organisatrices, Sylvia Sylvander et Danielle Barrère, du CNES (DCT/ME/OT), ainsi que les 23 orateurs qui nous ont proposé de brillantes présentations.

Here are the presentations from SPOT4 (Take5) users day on November 18th and 19th 2014. Around 100 people attended this meeting at CNES, which aimed at making an assessment of the acquisitions and products, show the users studies and results and obtain their feedback.I would like to thank a lot the organisers, Sylvia Sylvander and Danielle Barrère from CNES, and the 23 speakers, who gave us amazing talks.The table below gives access to all the slides.