Because of the little issues we stumbled upon when producing Sentinel-2 level 2A data over France with MUSCATE, we had not yet demonstrated an end-to-end production, with a distribution on the operational server. While waiting for the end of the production of data over metropolitan France, we did this test the processing of Réunion Island.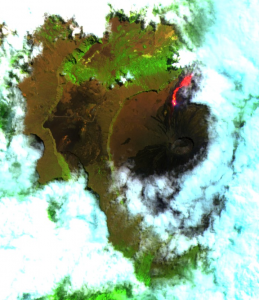 The island is covered by only one Sentinel-2 tile, but the processing worked very smoothly, which is a very good sign after all teh difficulties we met. The data are now released on :
We processed all the available data, strating from January the 18th, 2016, until end of November. To produce the data acquired later on, we are waiting for the new version of PEPS, compatible with the new Sentinel-2 data format. We hope it will be possible as soon as February. .The data set includes a nice image of the eruption of the Piton de la Fournaise volcano, in September. Regarding the data quality, you may find that the cloud shadows are a little exaggerated. We will try to fix that with a better tuning of the threshold for the next versions.