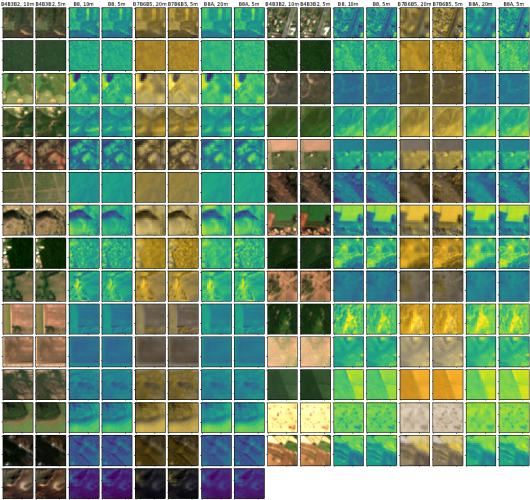 We are happy to announce the publication of SEN2VENµS, a dataset for the training of Sentinel-2 super-resolution algorithms !
Julien Michel, Juan Vinasco-Salinas, Jordi Inglada, & Olivier Hagolle. (2022). SEN2VENµS, a dataset for the training of Sentinel-2 super-resolution algorithms (1.0.0) [Data set]. Zenodo. https://doi.org/10.5281/zenodo.6514159
A detailed description of the dataset has been published as a data paper to the MDPI Data journal.
Michel, J.; Vinasco-Salinas, J.; Inglada, J.; Hagolle, O. SEN2VENµS, a Dataset for the Training of Sentinel-2 Super-Resolution Algorithms. Data 2022, 7, 96. https://doi.org/10.3390/data7070096
The idea of SEN2VENµS comes from the Sentinel-HR phase-0 study : search for conjonctions between VENµS and Sentinel-2, i.e. images acquired on the same site and on the same day. During the phase-0, we used a reduced dataset involving 5 VENµS sites for a total of 11 105 patches. In SEN2VENµS we extended the search to 29 VENµS sites for which Theia produces Sentinel-2 L2A products, yielding a high landscape variability. Altogether, 132 955 triplets of patches have been generated: for a VENµS patch of 256×256 pixels at 5 meter resolution, containing bands corresponding to Sentinel-2 B2, B3, B4, B5, B6, B7, B8 and B8A, we have a Sentinel-2 patch of 128×128 pixels at 10 meter resolution containing bands B2, B3, B4, B8, as well as a Sentinel-2 patch of 64×64 pixels at 20 meter resolution containing bands B5, B6, B7 and B8A. Uncompressed, the dataset reaches no less than 116 Go!
This dataset can of course be used for training and evaluation of classical Single Image Super-Resolution approaches (SISR), it will also allow to develop and evaluate methods tailored for Sentinel-2, allowing to jointly bring 10 meter and 20 meter bands to 5 meter resolution.
SEN2VENµS is avaiable as an open dataset on Zenodo  with the licencing of the original products (Etalab Open Licence Version 2.0 for Sentinel-2 L2A products from Theia and Creative Commons BY-NC 4.0 for VENµS products from Theia).