On Monday Nov 14 New Zealand was hit by an earthquake of magnitude 7.8. The epicenter was located near Kaikoura on the east coast of the South Island. Yesterday, the NZ Herald published aerial photographs showing tectonic uplift of the seabed of between 2 and 2.5 metres north of Kaikoura [1]. These photos were taken by @TonkinTaylor who posted them on Twitter.
Aerial photographs show the seabed uplift north of Kaikoura – estimated to be between 2 – 2.5 metres. #EQNZ pic.twitter.com/WLkSj4Xx9m

— Tonkin+Taylor (@TonkinTaylor) November 15, 2016
 Can we evaluate how widespread was this uplift using satellite imagery? New Zealand skies are often overcast but not enough to escape from Sentinel-2A (already) high revisit capability. Today I checked the latest available Sentinel-2A image in the Sentinel-Playground. It was acquired yesterday (Nov 15) and is not too cloudy. The resolution is sufficient to identify changes near the coastline in spite of some clouds and cloud shadows.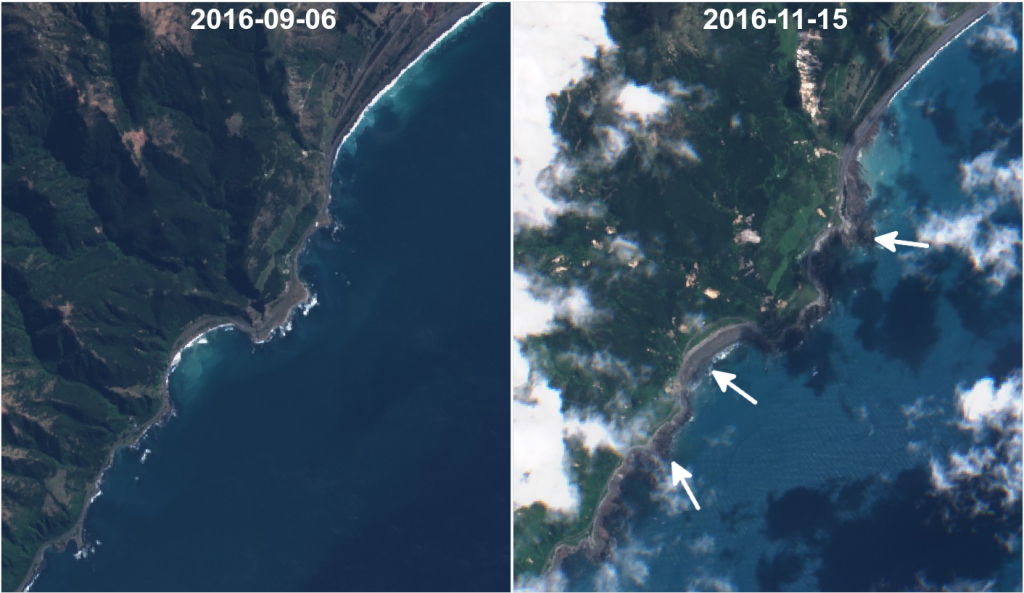 The NIWA tide forecaster indicates that the low tide on Nov 15 occurred at 11:44 (about 1h after Sentinel-2 overpass time) with a height of -0.86 m. So, to make sure that these changes are due to the uplift of the seabed and not to a very low tide, I also checked all Sentinel-2A images acquired before the quake. I found 13 clear-sky images of this area among 47 (a ratio of 0.28, which is higher than San Quintín glacier in Patagonia).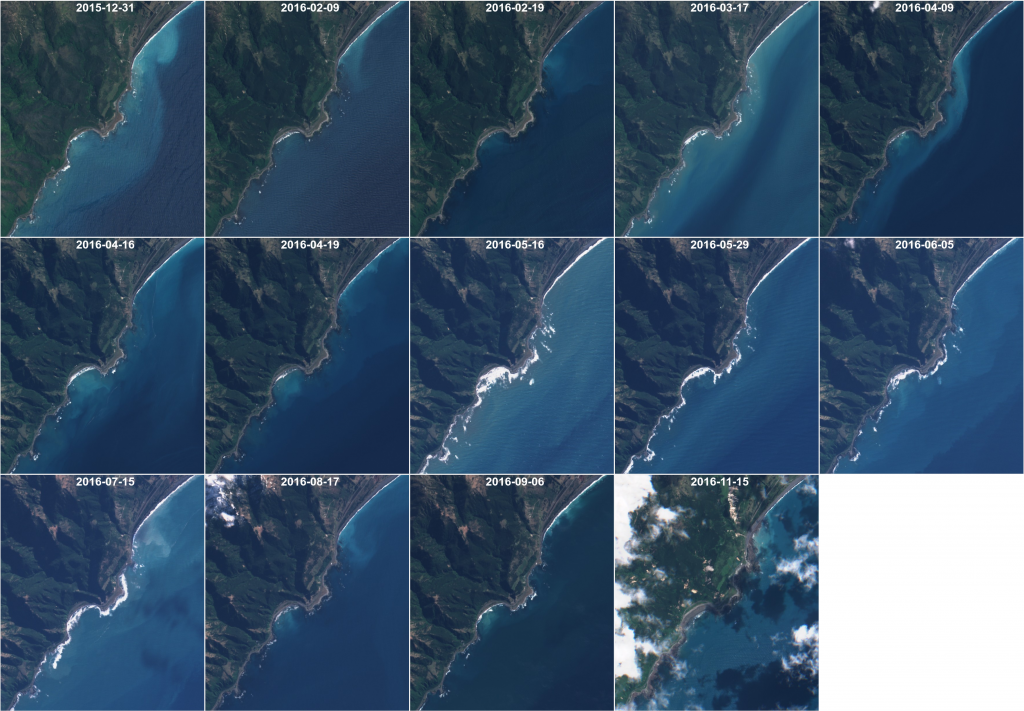 This coastal ground uplift is the result of the fault movement, which also triggered a « 1-meter-or-so » tsunami wave [2].
References
[1] NZ Herald Monday's earthquake lifted seabed around Kaikoura 'by at least a metre', scientists confirm, 2016 Nov 15.
[2] Science New Zealand earthquake rattles experts, 2016 Nov 14.