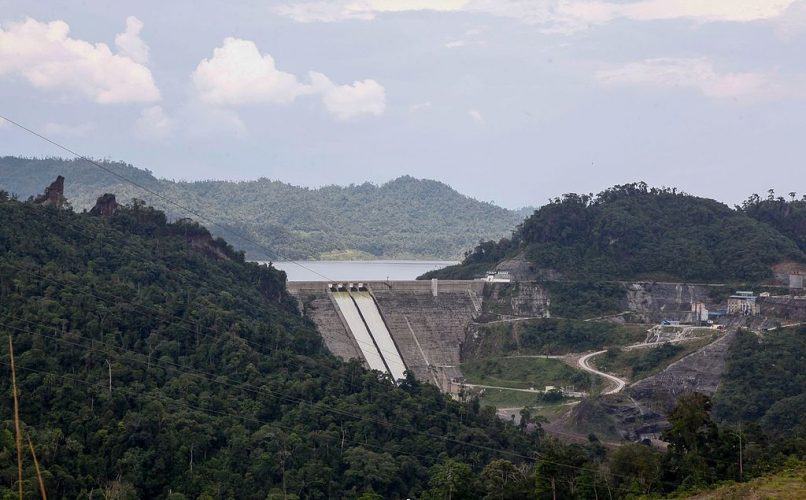 The remote sensing company Planet has published images, which were captured by its fleet of nano-satellites, of Lake Bakun on the island of Borneo [1]. Planet tells us that this artificial lake is the largest lake in Southeast Asia since its flooding in 2011. Yet it is not visible on mapping web services like Bing Maps or Google Maps! It does show up in OpenStreetMap but at coarse resolution. This is due to the fact that the island of Borneo is one of the most cloudy places in the world so the usable optical remote sensing images are very rare.The good repeatability of Sentinel-2A increases the chances of falling on a clear day. Bingo! In a few clicks on the Sentinel-Playground I found a clear Sentinel-2 image acquired on September 11, 2016.

A color composition with the NIR, Red, Green (8,4,3) bands makes it possible to distinguish the lakes from the surrounding vegetation. Indeed the lush vegetation of the Island of Borneo is very bright in the near infrared contrary to the water surfaces. Here is for example the spectrum of two pixels taken at random in the lake and out of the lake.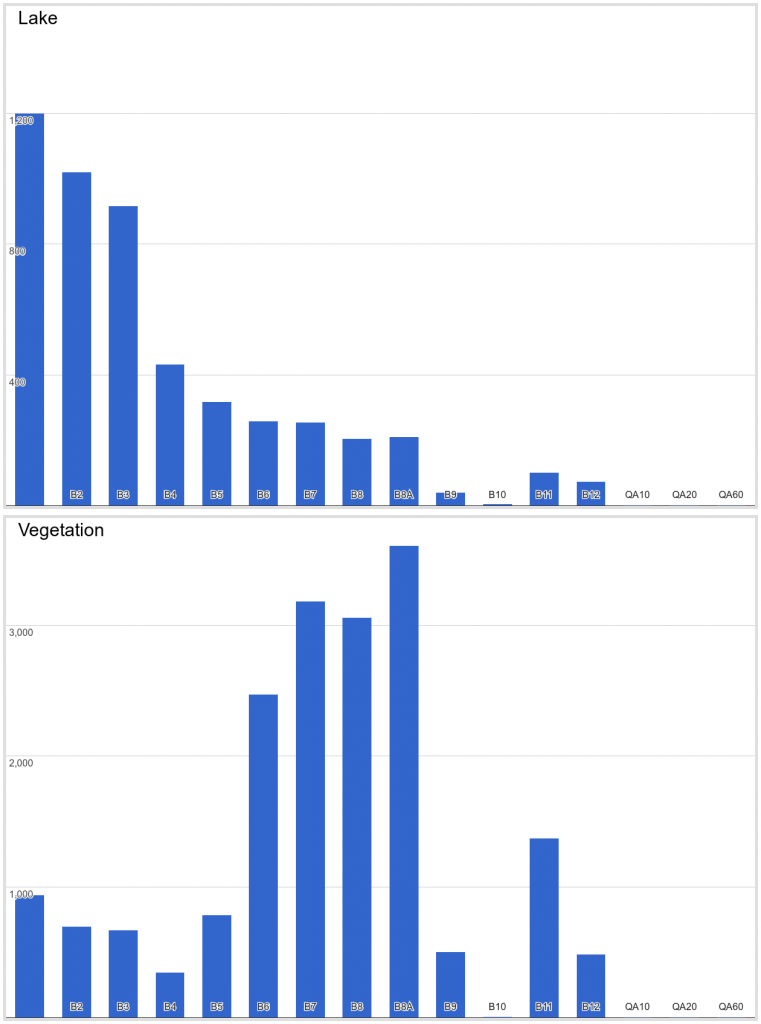 The difference between these two spectra can be expressed using the normalized difference water index (NDWI): NDWI = (B3-B8)/(B3+B8) If we apply the test NDWI > 0 we already get a very good mask of water surfaces!I extracted from this mask the largest polygon, that which corresponds to Lake Bakun (zoom on the map below to compare with the lower resolution OpenStreetMap's polygon)
The area of the polygon thus extracted from the Sentinel-2 image is 628 km². Wikipedia indicates 695 km². But what is this other lake of 246 km² (nearly half of Lake Geneva) located east of Lake Bakun and which does not appear in Google Maps, OpenStreetMap [3] or in any other cartographic web service? I had to search the web to figure out that it is the Murum lake , another reservoir put into service in December 2014 [2].
Bakun and Murum lakes polygons can be downloaded if someone wants to modify the OpenStreetMap layer! And the code to reproduce this post in Google Earth Engine is right here. The Sentinel-2 data are freely available thanks to the European Union Copernicus program.
Notes
[1] "One of the world's largest reservoirs lies hidden in the mountainous center of Borneo" https://medium.com/planet-stories/one-of-the-worlds-largest-reservoirs-lies-hidden-in-the-mountainous-center-of-borneo-1300215f26bf
[2] "MURUM Hydroelectric Power Project Resettlement Action Plan" http://archives.sarawakreport.org/rap/
[3]