I have written that SPOT4 (Take 5) was working  as a clockwork, but  I have to admit that the ortho-rectification of SPOT4 images is not as easy as I thought initially.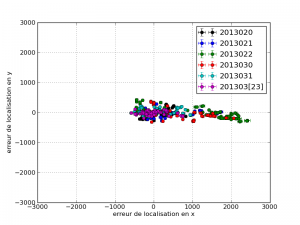 The location error of an image is the average difference between the actual position of the pixels of an image, and the position calculated knowing the position of the satellite, its orientation (in space science, we say « attitude ») , the  orientation of the mirror and the location of the detectors in the instrument. While the SPOT4 image localization performance measured at CNES, has usually a standard deviation of 450 meters, we met over a fifty scenes with localization errors greater than 1000 meters. Most of them were acquired close to Europe. We have not yet an explanation for this issue, which is still within SPOT4 requirements (1500m RMS). On recent satellites,the attitude is measured very precisely by star trackers. These sensors are small optical instruments that identify  stars in the sky whose position is known to determine the attitude of the satellite, as the walker lost at night can use the North Star to find his or her way. But when SPOT 4 was designed in the early 1990s, these star trackers were not operational yet, and SPOT4 used another type of sensor, the earth sensor. This device works in the thermal infrared : it scans the horizon of the earth, and deduces the position of the center of the earth. However, its accuracy is altered by the presence or absence of high clouds that modify slightly the horizon. For this reason, earth sensors are less accurate than star trackers. In short, the location of SPOT4 (Take5) images is quite poor sometimes, and when we search for a ground control point, we need to search its match in a range that reaches 2.5 kilometers. This long distance research increases the probability of matching similar neighborhoods that do not correspond in fact to the same places. Therefore, within the set of ground control points that we use for the orthorectification, we may obtain erroneous ground control points more frequently than usually. Because of that,  some images might be misregistered.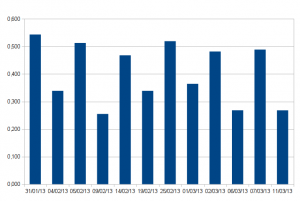 With the help of some CNES colleagues (Cécile Déchoz, Stéphane May, Sylvia Sylvander), I have spent the last month tuning a parameter set that would minimize the amount of false GCP's by selecting them carefully, without removing too many of the good ones, in order to be able to ortho-rectify images with a large cloud cover. Results are now enhancing, but once in a while, misregistered images are still encountered.
Finally, in most of the cases, the registration of Take5 data should be quite good, with most of the pixels within 0.5 pixel accuracy, but some images may have higher errors. The ortho-retification diagnostics enable us to detect these cases, as in the image below, but the images will not be delivered at Level 1C.