Three and a half months after the first release of SPOT4 (Take5) products, we can draw a first analysis of the SPOT4(Take5) data downloads (from THEIA distribution website : http://spirit.cnes.fr/take5/)
160 different users have downloaded data, from all over the world.
75% of downloads are Level 2A products, and most of the users who downloaded Level 1C products also downloaded Level 2A.
40% of downloads concern whole time series, 60% concern mono-date images, which means that, with an average number of 14 dates per site, about 90% of product downloads are downloaded as whole time series.
Each time series has been downloaded 12 times on average.
Two users (I would bet they are French) are named Titi and Toto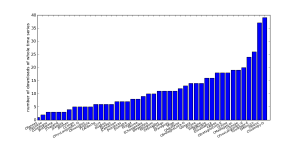 We have also obtained a ranking of the 45 sites versus the number of downloads, and notice that all 45 sites where at least downloaded once. Well, although CESBIO sites come first (!), this is not a competition, and it is probably biased, as some well organised user groups centralise their downloads, while other labs (among which CESBIO…) have downloaded their sites several times. The least demanded site (Rennes), was added very recently to the list. The number of communications or papers per site will be much more interesting, but as far as I know, the counter is still set to 3 (3 communications at the Living Planet Symposium). Please remember that users are requested to send us all their communications based on SPOT4(Take5) data.
PS : this information is gathered thanks to the information provided by users at each download, which is collected on the download site data base (designed by J.Gasperi (CNES)), and then provided to me each month by B.Specht (CNES).