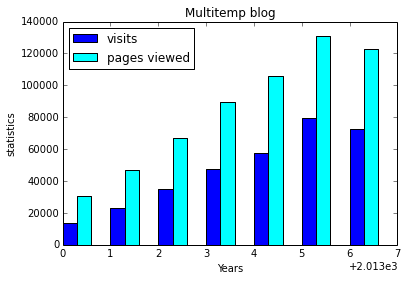 In this period of festivities, feasts, gifts and good resolutions, the contrast is strong with the gloomy balance sheet of the year 2019 for our blog, which for the first time shows a pathetic drop in traffic: -9%.
Faced with such a worsening situation, the editorial board must react and take remedial action, and is expected to point fingers and knock heads. Our investigation quickly revealed the name of the culprit; a few years ago, in order to boost our publication and increase its support, we hired a social networking star, a first of its kind in communications, Simon Gascoin. But is it a drop in motivation ? a small stroke of fatigue? Simon did not perform as well as expected in 2019. Disasters, fires, floods, avalanches have occurred that have not been mentioned in this blog, and we have not renewed the previous year's BUZZ and its 11,371 visits (18% of the 2018 visits). However, Simon noticed the problem at the end of the year and managed to bring up our statistics at the end of 2019 with another flood, in the South West of France.

Comparison of the number of visits to our blog in 2019 and 2018
But in these times of Darwinism in the research community, where researchers are selected for their « excellence » with a short-term vision and where « losers » are left without a budget, some people might have thought that we would give in to the trend. That's knowing us badly! This blog is interested in the whole time series, and not a couple of isolated dates, so we decided to continue our efforts without knocking heads, but hoping that many other contributors will want to join us, and, who knows, make the buzz. This blog is open, writing an article doesn't take a lot of time (especially the second, and the third…), so we're waiting for you, whether you're CESBIO members or not.
We also have a little excuse, the blog had to move (from the university servers to the Observatoire Midi Pyrénées servers), and if it has been renovated and has an up-to-date interface, the move may have caused some loss of links from other sites… In short, we should start again from better in 2020.
So here is the list of the most read pages this year, after having removed the lists of articles, like of course the home page, the Sentinel-2 or Landsat pages, the authors' names (I'm still ahead of Simon, but it won't last… )
So what may we conclude ?
the distribution of small free software is at the top of the list (and we get several questions a week…)
Simon's geophysics articles (with the associated ad on social networks) attract crowds
the description of the MAJA channel is nice, but half of my articles point to this page
the example on how to use Google Earth Online attracts much more than the articles that denounce its dangers (it's sad)
the « How It Works » series continues to be a success…
Level 3A products were very popular (whether in France, Spain or Italy, Maghreb or Sahel).
the news of Theia's production and product formats are well tracked
two articles on Sentinel-1 ranked in the top 15 (and a third on deforestation ranked in the top 30)
for the first time, a series of VENµS images enters the top 15, with the magnificent video on the Everest glacier created by Simon