=>

Had we known, we would have framed the images differently !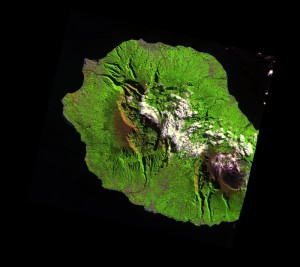 On  Reunion Island, in the Indian Ocean, the Piton de la Fournaise volcano had a very frantic summer (well, it's winter there). The volcano erupted 3 three times since May, and we missed a little part of the first eruption. Reunion Island is a little too large to fit in a SPOT5 picture. The users who asked to include this scene in the SPOT5 (Take5) experiment, favoured the West of the island, where most crops are, while the volcano is in the East. However, we were lucky enough to be able to see at least part of the eruption of the 17th of May, and the the whole of the next ones. You will find the images below.A very intense lava flow is visible of the 19th May image (due to the extreme luminosity, we even see two replicas above and below, but I think they are artifacts. On may 24th, the lava flow has shrinked and is much cooler, and it has disappeared on the 8th of June, leaving only a dark path.. For these color composite images, we used the Short Wave infrared image(SWIR, circa 1650 nm) in red, the near infra-red in green and the red in blue. The SWIR band can sense thermal emissions at high temperatures, which therefore appear in red..
| | |
| --- | --- |
| May 14th | May 19th |
| May 24th | June 8th |
There was another eruption on July the 31st, but it happened beneath the clouds. However, the lava flow is visible as a dark path on the North side of the volcano, comparing images of July the 23rd and August the 7th.
| | |
| --- | --- |
| July 23rd | August 7th |
Las but not least, a new eruption started in the South of the Volcano, on the 24th of August, and is still going on. And this time, it fits in the frame ! As the experiment ends on the 15th of September, will we see the end of the eruption ?
| | |
| --- | --- |
| August 22nd | August 27th |
Should you like to use the data, to make a much more serious study than this one, you may download the data, freely of course, from the website http://spot-take5.org . The SPOT5 (Take5) experiment is managed by CNES with a large funding from ESA, in order to provide users with time series of images similar to those delivered by Sentinel-2 in the coming years. The interest of such time series is here quite obvious. SPOT5 (Take5) data are produced at CNES by THEIA land data center. Don't you think the volcano looks rather flat on these images ? Having walked there, i can swear it is not. This impression is given by the correction of topographic effects included in our MACCS processor.