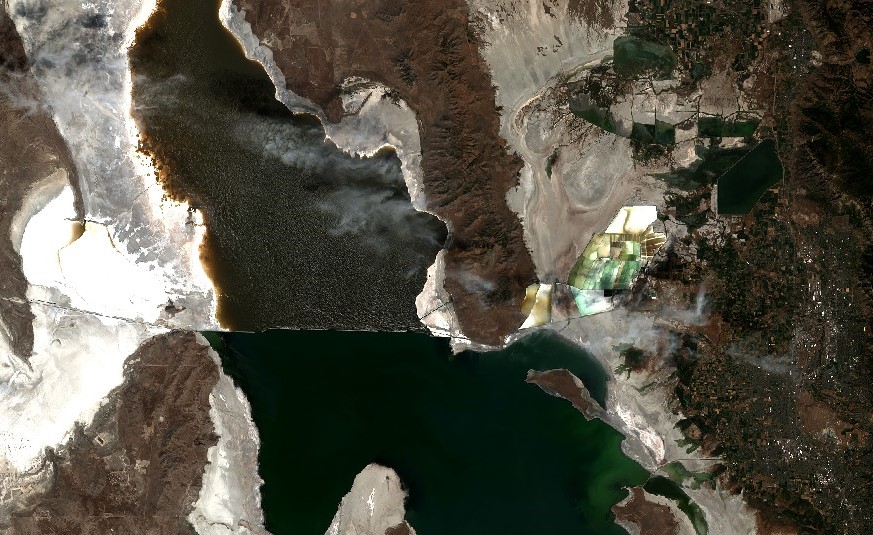 Nous avons deux gagnants ! We have two winners to the Sentinel-2 contest – Grand jeu-concours: Rutger & François! Bravo!

Cet endroit insolite est le Grand Lac Salé aux Etats-Unis. La droite horizontale est une ligne de chemin de fer construite dans les années 1950. Cette chaussée empêche l'eau du lac de circuler librement. La partie nord du lac n'étant pas alimentée en eau douce par une rivière, elle est beaucoup plus salée que le reste du lac. Ces conditions sont favorables à la prolifération d'un certain type d'algues qui donnent une coloration rougeâtre à l'eau. Ces algues produisent aussi des molécules organiques tensio-actives qui se comportent comme du savon. Ces composés entrainent la formation de coussins d'écume blanche à la surface du lac sous l'action des vagues et du vent. La forme et l'orientation de ces traces de mousse varie au cours du temps en fonction du vent…
Chose promise, chose due : François et Rutger, voici votre prix.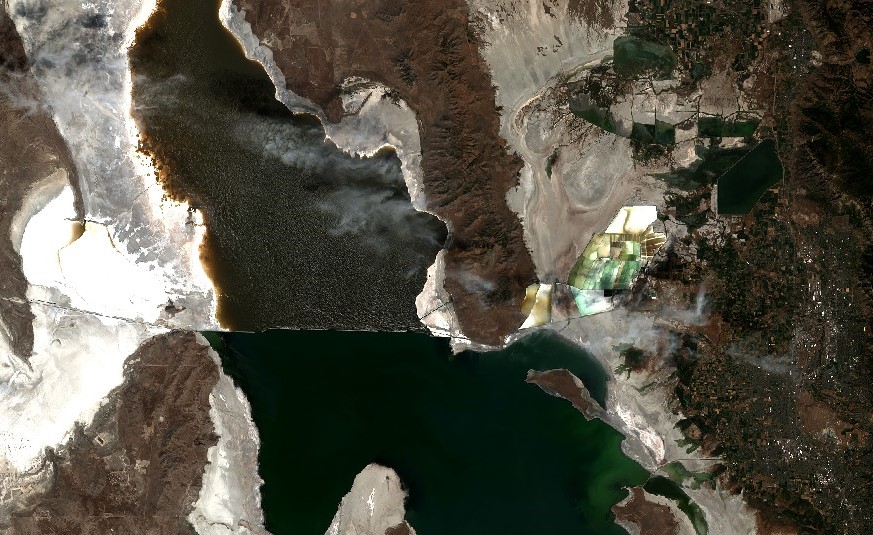 The mysterious place was the Great Salt Lake in Utah, USA. The straight line is a railroad causeway constructed in the 1950s. Wikipedia: « This causeway prevents the normal mixing of the waters of the lake because there are only three 100-foot (30 m) breaches. Because no rivers, except a few minor streams, flow directly into the northwest arm, Gunnison Bay, it is now substantially saltier than the rest of the lake. This provides an environment suitable for different types of algae than those growing in the southern part of the lake, leading to a marked color difference on the two sides of the causeway. » [1] The algae community in the northern arm also produces more surfactants, organic compounds similar to soap [2]. The surfactants cause the formation of white foam pillows, whose orientation and shape change with the wind.  The original images can be seen here.
And… a promise is a promise, François and Rutger, here is your prize.
[1] Wikipedia, « Great Salt Lake » https://en.wikipedia.org/wiki/Great_Salt_Lake
[2] Natural History Museum of Utah, Great Salt Lake Gallery Interpreter Training https://nhmu.utah.edu/boneupongreatsaltlake#Foam