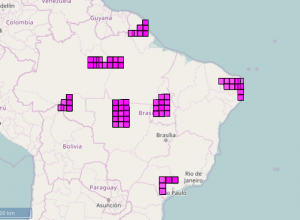 Theia has added seven new sites in Brazil, for which Sentinel-2 L2A are produced and distributed, starting in December 2016.  These sites will be processed in near real time from now on. Data are produced by the MUSCATE system at CNES, using CNES-DLR MAJA processor. The products can be freely downloaded from https://theia.cnes.fr. These sites were selected following demands from French scientists, with two main themes :
Land cover and land use change monitoring
Water body surface and turbidity
As you probably know, the Sentinel-2 system is only acquiring data at each overpass above
Europe and Africa. Above the other continents, so far, Sentinel-2 only acquires data every 20 days. As a result, our processor, MAJA, which makes a deep use of multi-temporal information, lacks  some information to provide results with the same quality level as in Europe and Africa. However, the joined time series of quicklooks shows that MAJA manages to provide fairly good results event in these conditions. And the outlook is really good, with the recent availability of S2B data and the coming start of operations of a relay satellite to download data at each overpass.