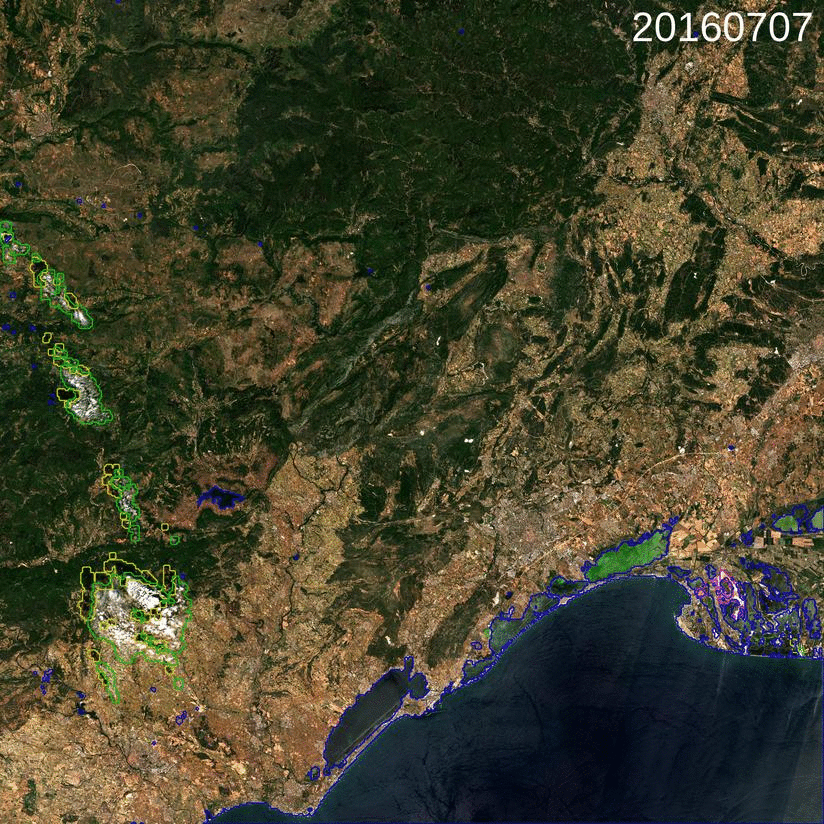 =>

A first large scale data set of Sentinel-2 level 2A products was just issued by CNES. It contains all the data acquired by Sentinel-2 over France, from December 1st, 2015 until end of August. It was produced with MACCS on MUSCATE ground segment. The data can be downloaded from :
In case all DNS are not updated, you might also use the following address.https://theia.cnes.fr/atdistrib/rocket All you need to do is register, log in, and then search and download. You may use classical requests with criteria or much simpler ones such as « Toulouse in July ». You may also use the tile number to select the data set, for instance « T31TEJ » for Montpellier (don't forget the first T). The data format is described here. As we have met some issues with the operational configuration, on which we are currently working, the data we released were produced with an earlier version of the tools, on a test configuration. Although the data set is really globally good, it suffers from a few issues, some of which will be corrected in subsequent versions, and the others when Sentinel-2 systems becomes fully operational :
We only have one Sentinel-2 satellite yet, and the results will enhance with a better repetitivity when Sentinel-2B is operational, in 2017.
At the beginning of the time period we processed, we were far from having data every 10 days. A lot of acquisitions were either missed by Sentinel-2 or wrongly processed by its ground segment. The situation really enhanced after April 2016. We observed that several images before April 2016 have a quite poor cloud or cloud shadows mask.
Sentinel-2 L1C are ortho-rectified without ground control points. Image location accuracy is close to one pixel, but registration errors of 2 to 3 pixels have been observed. We will have to reprocess the data, but we are waiting for ESA reprocessing with ground control points, the date of which is still unknown, and probably not before spring 2017.
We observed that sometimes, Sentinel-2 tiles are provided twice in different products, the first one providing the Northern part of the tile, and the second one the Southern part of the tile. This case was not expected by MACCS and results in some clouds being missed on the second half produced by MACCS.  (if you are really interested, i explain it at the end of the post).
There was a bug in MACCS (which now is corrected, but not yet used operationally) which appeared for our new cloud shadow detection method, when more than 256 clouds are within the image. In that case, MACCS found cloud shadows nearly anywhere. It doesn't happen often, say maybe on 5% of the dates, and we'll correct that in next reprocessing (released in next November).
We noticed frequent unjustified detection of clouds or shadows on the very edges of the images. This bug is not solved yet, but seems to be due to the fact not all bands are provided for some pixels at the edge of Sentinel-2 L1C images. It should be easy to correct within next version.
These defects are only small issues, and the overall data quality is good, as shown for instance in this post. That's why we decided to release the data set to let all users start using our products and test and prepare their processors. But of course, we are not delivering definitive products and some more versions will be provided. Our facility has a large reprocessing capacity. And this will probably happen often, so we recommend the users to build automatic programs so that they can process again when we will deliver new versions.Please tell us what you think of the data, even if you are satisfied !
Example of a tile split in two products. Some clouds within the overlap region might be misclassified.
Acknowledgements
To conclude, I would like to really thank the development and exploitation teams of MUSCATE, and of the CNES computing center who relentlessly worked at putting the system at work, solve the big and little bugs, and find mitigating solutions. It is quite dangerous to quote the names, as I am quite sure, I will forget some of them. But, a well deserved thank you to :
The team in charge of developping earth observation ground segments (CNES PS/OT), and namely Joelle Donadieu, Céline l'Helguen et Beatrice Petrucci
Jérôme Gaspéri CNES PS/TVI, who developped  the rocket tool on which the distribution server is based
The MUSCATE development team in Cap Gemini, and namely Dominique Clesse and Remi Mourembles, a few others probably, with the support of a team from Magellium whom I did not often meet.
The MACCS development team at CS-SI (Thomas Feuvrier and Aurelien Bricier), with support for validation from  Cap Gemini (Morgan Farges and Elise Durand).
The exploitation team at CNES (ME/PRM), and the staff from Steria and Cap Gemini, namely Karl Rodriguez et Olivier Ravayrol
The developement team of Phoebus, Thales Group, which orchestrates MUSCATE processing
CNES computer center teams, et namely Robert Ngo, Manuel Pavy, Emmanuelle Sarrazin and Sophie Pelou
The support for quality and versioning of all software
Camille Desjardins, Physics measurement service at CNES (SI/MO), who manages MACCS validation, and provides nice results I have to show you on this blog
At CESBIO, Mireille Huc (for all her work on the prototype and methods).
and finally, Theia leaders at CNES : Marc Leroy (and now Arnaud Sellé) and Philippe Pacholczyk