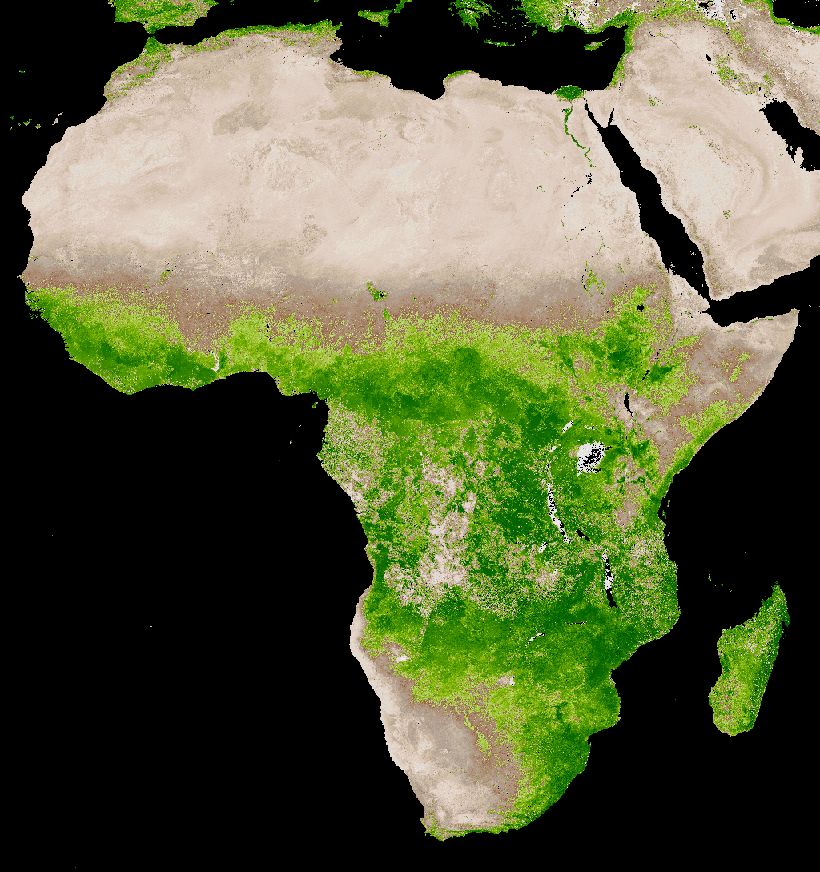 The Global Imagery Browse Services (GIBS) is a great new API provided by the NASA to access its vast collection of Earth Observation products. For example the following URL allows you to download a jpeg picture of the Terra MODIS NDVI on 2018 Jan 01 over Africa:
https://gibs.earthdata.nasa.gov/image-download?TIME=2018001&extent=-18.9,-37.6,53.1,39.0&epsg=4326&layers=MODIS_Terra_NDVI_8Day&worldfile=false&format=image/jpeg&width=820&height=872
By looping on the "TIME" parameter (in a bash script using wget) I could get all the available products from 2016-07-30 until yesterday, and make this animation (using ffmpeg).
Evolution of the Normalized Difference Vegetation Index in Africa since 2016-July-30 from #MODIS @NASAEarth pic.twitter.com/IE2lYq6pot

— Simon Gascoin (@sgascoin) May 24, 2018
Each layer comes with a specific colormap that is consistent with the product. In addition you can download a stack of multiple layers with different opacities, for example you can overlay the MODIS "fire" layer on the "NDVI" layer.
https://gibs.earthdata.nasa.gov/image-download?TIME=2017211&extent=2.73,-22.39,34.64,11.55&epsg=4326&layers=MODIS_Terra_NDVI_8Day,MODIS_Fires_Terra&opacities=1,1&worldfile=false&format=image/jpeg&width=726&height=773
Tip: It's convenient to use the worldview online data browser to get the right URL template. Just click on "Take a snapshot" and copy the URL. You can also download the images as Geotiff if you wish to combine them with other geospatial data.