=> 

The aim of « Bagré 2015 » campaign was to closely monitor the spatio-temporal evolution of turbidity and Total Suspended Matters (TSM) in the water of Bagré Lake, the second biggest lake in Burkina Faso, where the concentrations are particularly heavy. Micro-organism find a favourable terrain in the suspended matters. The turbid waters which are absorbed or used by inhabitants to wash themselves or clothes or food, or to play, with a high risk of contamination. In Sub-Saharan Africa, many regions lack water quality networks and their health systems can be insufficient. Monitoring water quality can therefore contribute to mitigating this health hazard.
SPOT5 (Take5) images over Bagré Lake.
Monitoring of turbid waters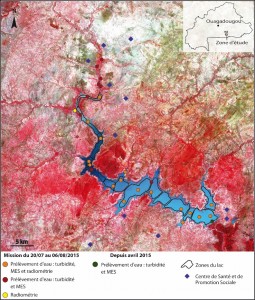 The SPOT5 (Take5) image time series shows the propagation of turbid waters after the start of the reain season, beginning inthe upstream part in june, the middle  part in July and August and the downstream part in September. It may be seen on the images above, acquired on the 11/04, 15/06, 05/07, 04/08, 19/08, 13/09, where the initially blue waters progressively turn yellow and green). In order to asses our methods for turbidity and TSM monitoring, routine measurements were set-up from April the 16th, at the downstream end of the lake. A terrain campaign was also held between the 21st of July and the 5th of August 2015 (thanks to a French PNTS funding). Water samples were analysed to quantify turbidity (70 measures) and TSM (53 measures). 28 radiometric measurements (pictures 1 &2) and 12 absorption coefficients (Kd) (Picture 3 and map) were also recorded from a boat in all the lake parts (Picture 4).
| | | |
| --- | --- | --- |
| | | |
| Picture 1 :TriOs radiometer for reflectance measurements | Picture 2: Reflectance measurements | Picture 3 : TriOs Radiometer absorption coefficient measurement |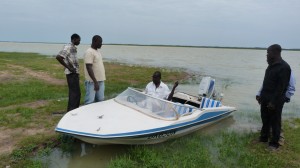 Preliminary resultsThe early results show nice relations between the NIR/RED surface reflectance ratio, and the in-situ turbidity and TSM. on a large range of values. The high resolution images will allow us to precisely document the lake dynamics, the contribution of each tributary and catchment, and the role of their land use. The measurements cruises also enabled to spot a few hippos, but the crocodiles did not show themselves… Some samples were analysed with a scanning electro microscope to measure the size and type of the particles. Most of them have a diameter between 1 and 2 microns, and are mostly clays (kaolinite, illite and smectite). All this work is done in the broader framework on continental water colour group within THEIA, in view of Sentinel-2 data use. Elodie Robert, Manuela Grippa, Laurent Kergoat, Jean-Michel Martinez, Sylvain Pinet, Laetitia Gal, Nogmana Soumaguel