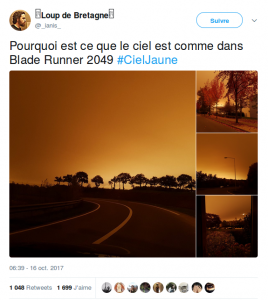 You must have seen, in the press or social networks, images like these ones, showing yellow skies ( Loup de Bretagne said "Blade Runner skies"). Such a coloured sky was seen in the west of France, then later in England, and further East in the next days.The Copernicus Atmosphere Monitoring Service, which keeps track of aerosols has also monitored these aerosols and tracked their provenance : is due to the combined presence of dust, ash from forest fires in Spain and Portugal, and humidity brought by the Ophelia cyclone. The IASI sensor on-board METOP satellites has also monitored the gases absorption due those wildfires. So our question is: how such an event is handled by atmospheric correction software ?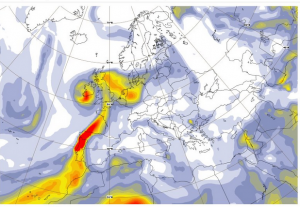 Looking at the recent production of Theia Sentinel-2 atmospherically corrected  products, I figured out that this event had been observed by Sentinel-2A, in the morning of October the 16th. Let's look at how our L2A processor, MAJA, handled that (expecting no miracle, as MAJA V1_0 still supposes the aerosol are of "continental" type, and not "biomass burning" or "dust", as it was on that day. MAJA V3_0 will handle that, but it is another story).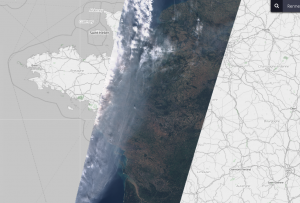 The good news is that both MAJA and Sen2cor methods provide quite honourable results, despite the difficulty of the task. But OK,  both L2A methods cheat : MAJA classifies the thick part of aerosols as clouds, and does not attempt to correct it (anyway, the result would be bad). But the good point with MAJA is that most of the pixels which are not well corrected are flagged as cloudy (and circled in green in the image above). In the case of Sen2cor, the process is different, dark dense vegetation pixels are searched in the image, but are not found where the aerosol thickness is high. As a result, Sen2cor only corrects the part with a low aerosol content. The only trouble is that a large part of the high aerosol zone is not flagged as cloudy by Sen2cor, and automatic algorithms will not know they have to discard the badly corrected pixels. I am also puzzled by the increase of reflectance seen on the thickest part of aerosol +clouds in Sen2cor image. But anyway, these are clouds, not supposed to be used by Sentinel2 users. And finally, Sen2cor does a better job in flagging clouds over sea. We should spend more time here tuning the thresholds, even if sea is not the aim of MAJA. So, all in all, this little case study in a very special case quire rare in Europe, shows encouraging results. Of course, MAJA cannot correct for the images taken from the ground, but they are so weird it would be a pity.