When in 2019 SMOS was to turn 10 we had decided to organise a set of events but COVID arrived with it load of lock downs and it led to several postponements.
However last spring, with a return to quasi normal life and we though it could be nice to revive this idea and we took advantage of a joint progress meeting to add a small celebration.
So finally about 100 persons related to the SMOS activities came to an informal gathering. Some were there at the beginning , others joined later while some new comers were also present.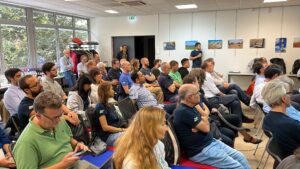 The first half day was devoted to reminiscing the birth of the mission and the long way from inception to launch and first results. The day ended with a BBQ.
The second day was mostly devoted to sampling the most astounding results of the mission and ended with presentations of future potential L band missions to fill the gap when the current missions reach their end of life as well as the potential programmatic venues. The day and celebration ended with a nice dinner.
To make a long story short it was a very nice event and it was a real pleasure to see friends colleagues we hadn't seen for some time!