After the drifting iceberg (identified by SMOS blog followers as the B15J) was spotted on SMOS data, it has become attractive to follow the movement of this massive "natural buoy", serving as the oceans current indicator.The iceberg trajectory has been determined from the SMOS browse data, and it is charted as a function of the first Stokes parameter (at the incidence angle 42.5).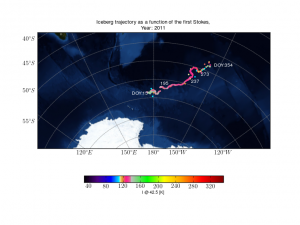 Animation based on consecutive single passes shows iceberg location during last three months.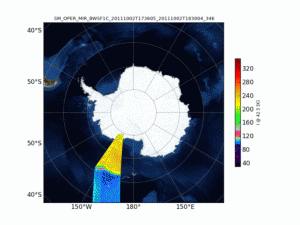 Note, that in the range between 114-140 K the color scale has been modified on purpose. This gives better ability to distinguish moving B15J from the surrounding open water, but also depicts regions characterized by the same brightness temperature range as the tracked iceberg. When in the middle of October 2011 B15J started to move towards the equator, straying from Antarctica, its brightness temperature started to decrease steadily. The DGG pixels belonging to the iceberg area and having maximum intensity of the first Stokes parameter have been extracted to examine polarimetric characteristics of the tracked object. Sample of polarimetric characteristics, grouped into three months sets, confirms significant drop-off of the brightness temperature.
Unfortunately at the end of December 2011, the signature of B15J were barely apparent. The iceberg vanished in the Pacific Ocean, making further tracking not feasible.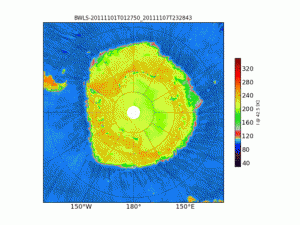 Ewa Slominska