Jacqueline Boutin informs us that:
A new version (version 5) of the 'de-biased SMOS SSS L3 maps' has been generated by LOCEAN/ACRI-st CATDS expertise center (CEC LOCEAN).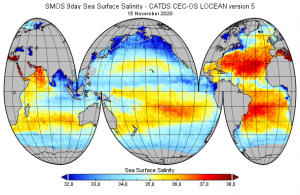 This fifth version of Level 3 SMOS SSS corrected from systematic biases covers the period from January 2010 to November 2020. With respect to version 4, the algorithm for computing the relative biases is unchanged, but the adjustment of the long term mean biases has been slightly updated leading to local improvements in very variable areas as well as in noisy areas (in particular high latitudes and RFI contaminated areas).
More information and data access here
Validation reports of the product compared to various sources of in situ measurements are available at PIMEP.