Thanks to the Direccion General de Telecomunicaciones, CDTI and INSA, some ofthe identified RFI sources in Spain (all civilian transmissions in theprotected band) have been switched off.  In particular the strong sourcesaround Caceres.There are still other powerful interferors in Vascongadas and Valencia whichhopefully will be switched off soon as well.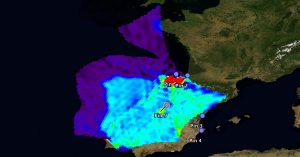 Just to update you with the some cleaner images of Spain and the first everdecent image over Portugal thanks to the lower RFI levels.
So there is some hope eventually!Things are not yet perfect  but if only a few other countries could be as pro active as Spain the whole Mediterranean context would clear up!
Note that the simple suppression of one source in Spain on March 16 has drastically improved the whole picture as shown on the RFI occurrence map produced by Philippe Richaume (here ascending+descending) to be compared to the previous one with Spanish main source still on.