The second session of the SMOS training course at CESBIO is now over. We had 16 trainees from 10 different countries (from China to the US (E-W) and from Canada to Yemen (N-S)In spite of the weather, all went well. We had also the good fortune to have the presence of our two mission managers (Susanne Mecklenburg and Carole Larigauderie) as well as a visit of Guillermo Buenadicha and his replacement at ESAC. We were also very lucky to have Ali Mahmoodi from Array (level 2 SM) for the training.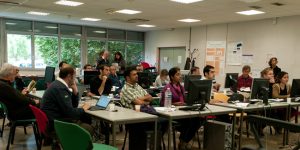 The SMOS training team covered all aspects of the mission from system to data use and applications. experts came from again many parts of the world (from Sweden to Spain and from Canada to India!
It was a very nice experience and it may be hoped that all participants (trainees and teachers) feel more "educated" after a dense week!