From Jacqueline Boutin at LOCEAN

The first version of satellite Sea Surface Salinity (SSS) maps produced by the ESA CCI (Climate Change Initiative) SSS project by combining SMOS-CATDS, AQUARIUS and SMAP SSS over the 2010-2018 period are now available. Systematic differences between SSS obtained from the various instruments and under various geometries have been homogenized  using a methodology similar to the one developed and implemented at CATDS (Centre Aval de Traitement des Données SMOS).
See more on data description and access here.
You may also see the ESA announcement there.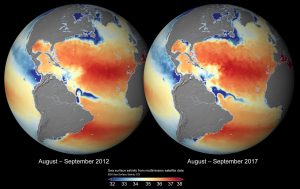 SSS maps as derived from SMOS+ AQUARIUS (2012) and from SMOS+SMAP (2017) : see in particular the interannual variation of the SSS in the Amazon plume, off the Rio De La Plata and the Mississippi river plumes.