SMOS gives almost real time information on soil moisture. At CESBIO / CATDS we had the idea to investigate with Capgemini how such a piece of crucial information could be used to anticipate flood risks. Using the Capgemini "Rodger" platform, we merged SMOS historical records of Soil Moisture, SMOS actual surface soil moisture information and rainfall forecasts to build a flood risk indicator.Even though our approach is still in infancy and there are still a number of open issues to sort out (not mentioning when the extreme rainfall forecast are inadequate) we score  several successes during the past months and most notably during the recent floods in Morocco which occurred a few days ago.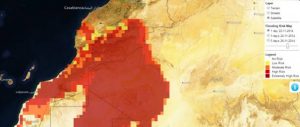 flood risks as obtained on November 22nd, 2014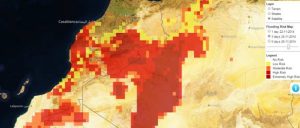 Same for November 25, 2014
So some work is still to be done but we are getting there!
Stay tuned!
Ahmad, Audrey, Julien, Sat and Yann